In our homes and businesses, vacuum cleaners are becoming a need. They assist us in maintaining our homes' cleanliness, organisation, and lack of clutter. However, the vacuum cleaner's filter significantly impacts how well it performs.
Small particles and allergens that would otherwise be released back into the air we breathe are captured by Vacuum cleaner filters. As a result, selecting the proper filter for your Vacuum is critical to achieving peak effectiveness.
This blog post will examine the vacuum cleaner filter types on the market. We'll go through the advantages of each vacuum cleaner filter, how they function, and some examples of Vacuum cleaners that employ each.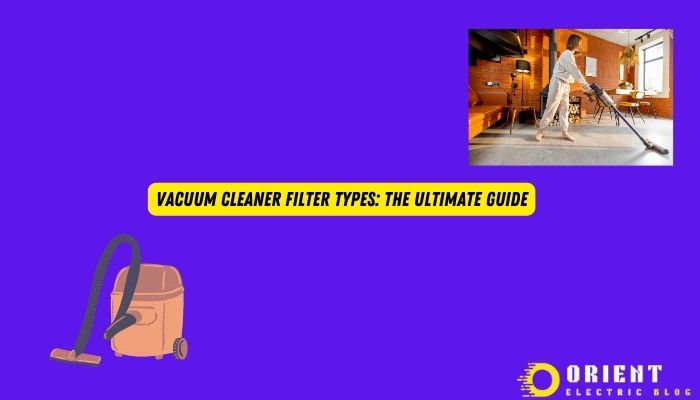 Vacuum cleaner filter types:
This post will give you helpful information to help you make an informed choice when selecting the correct filter for your vacuum cleaner, whether you're a homeowner, a professional cleaner, or anybody else interested in knowing more about vacuum cleaner filters.
1. HEPA Filters:
One of the market's most common vacuum cleaner filter types is the HEPA (High-Efficiency Particulate Air) filter. These filters catch small particles, such as pet hair, pollen, dust mites, and other allergies. HEPA filters trap minute particles that pass through the filter using a dense mat of randomly oriented fibres.
Filters can only remove particles that are 0.3 microns in size or more prominent, which is too small to remove the majority of airborne allergens.
People with allergies or respiratory conditions can benefit from HEPA filters because they can lower the number of allergens in the air. While some Vacuum cleaners offer HEPA filter upgrades, others already have a HEPA filter installed.
When choosing a Vacuum cleaner, ensure the HEPA filter is correctly sealed so air doesn't leak around the corners. By doing this, it is made sure that the air that the Vacuum exhausts is pure and allergen-free.
The Shark Navigator Lift-Away Professional, Dyson Cyclone V10 Absolute, and Miele Complete C3 are a few examples of vacuums that feature HEPA filters. These vacuums are renowned for their exceptional suction power and capacity to capture dust and allergens.
2. Pre-Motor Filters:
A pre-motor filter is another vacuum cleaner filter designed to keep the vacuum motor clean and dust-free. Foam or felt filters are commonly used and located near the Vacuum's air inlet. The filter prevents dust and other particles from entering the motor by filtering incoming air.
Pre-motor filters are critical because they extend the life of the Vacuum's motor. If the engine's cooling system becomes clogged with dirt and dust, it could overheat and die. Reduced dust and debris emissions are another benefit of using pre-motor filters.
Some models of vacuum cleaners that use pre-motor filters are the Bissell PowerEdge Pet Hardwood Floor Corded Vacuum, the Shark Navigator Freestyle Upright Stick Cordless Bagless Vacuum, and the Eureka PowerSpeed Bagless Upright Vacuum. Famous for their powerful suction and effective filtration systems that prevent dust and debris from clogging the engine, these vacuums are a must-have.
3. Post-Motor Filters:
The vacuum cleaner's post-motor filters, sometimes called exhaust filters, are found in the back and collect any dust or allergens that the pre-motor filter failed to capture. Typically made of paper or foam, these filters are intended to catch smaller particles that may have passed the pre-motor filter.
Post-motor filters are vital because they prevent the re-distribution of any dust or allergens the pre-motor filter missed. This is especially crucial for those who suffer from allergies or respiratory conditions. While some Vacuum cleaners have a washable post-motor filter, others need the filter to be changed regularly.
The Shark Navigator Lift-Away Professional, Bissell CleanView Swivel Rewind Pet Upright Bagless Vacuum, and the Hoover WindTunnel 2 Whole House Rewind Upright Vacuum Cleaner are a few examples of vacuum cleaners that feature post-motor filters.
These vacuums are renowned for their strong suction and efficient filtering systems that trap dust and allergens, guaranteeing that the air leaving the vacuum cleaner is clear and impure.
4. Carbon Filters:
Some Vacuum cleaners use carbon filters, also known as activated carbon filters, to absorb odours and other disagreeable smells. Activated carbon, a substance with a high porosity that can absorb odours and chemicals, is the primary component of these filters.
The oxygen treatment of the activated carbon increases the surface area of the carbon filter by creating millions of tiny pores between the carbon atoms.
People with pets or anyone wanting to eliminate foul odours from their homes should use carbon filters. They can pick up smells from smoking, cooking, pet hair, and other sources. It's crucial to remember that carbon filters are not intended to remove allergies or dust, though. When combined with other filters, they perform best.
The Dyson Cyclone V10 Absolute, Shark Navigator Lift-Away Professional, and Kenmore Elite Canister Vacuum Cleaner are a few examples of vacuums that use carbon filters. The air is left feeling clean and fresh thanks to the odour-absorbing properties of these Vacuum cleaners.
5. Washable Filters:
Consumers increasingly favour washable filters, sometimes reusable filters, because they provide a more economical and environmentally friendly alternative. These filters may be readily removed and cleaned with water because they are typically made of foam or linen. The filter can be returned to the Vacuum cleaner once it has dried.
Because washable filters can be reused repeatedly, there is less need to buy replacement filters, which is advantageous. They are also less environmentally harmful than disposable filters, which can generate more garbage. It's crucial to remember that washable filters cannot be as efficient as disposable filters and might need to be changed more frequently.
The Eureka PowerSpeed Bagless Upright Vacuum, Shark Rocket Corded Hand Vac, and Bissell CleanView Swivel Pet Upright Bagless Vacuum Cleaner are a few examples of vacuum cleaners that feature washable filters. These vacuums are renowned for being reasonably priced and efficient for washing and reusing the filter.
Conclusion:
In summary, selecting the appropriate Vacuum cleaner filter is crucial for keeping a clean and healthy environment. When choosing a vacuum cleaner, it's essential to remember that different types of filters are made to capture different types of particles.
Popular choices with varying advantages include pre-motor, post-motor, carbon, washable, and HEPA filters. By studying the many types of filters and their distinctive qualities, you can pick a Vacuum cleaner that will keep your home clean and healthy for years.