Mitsubishi Electric created a line of air conditioning units called Mitsubishi air conditioners. Both residential and business environments can benefit from these systems' efficient cooling and heating.
Mitsubishi air conditioners' reliability, dependability, and energy efficiency are renowned. Mitsubishi Electric has almost a century of experience in the field and is now recognized as one of the top air conditioner producers globally.
How do Mitsubishi Air Conditioners Work?
When installing traditional central HVAC equipment is too expensive or unfeasible, ductless split systems offer specialized heating and cooling comfort.
Ductless technology, widely used in Europe and Southeast Asia, is becoming increasingly well-liked in the United States as people and companies look for less expensive options to window units, PTACs (packaged terminal air conditioners), and ineffective ducted systems.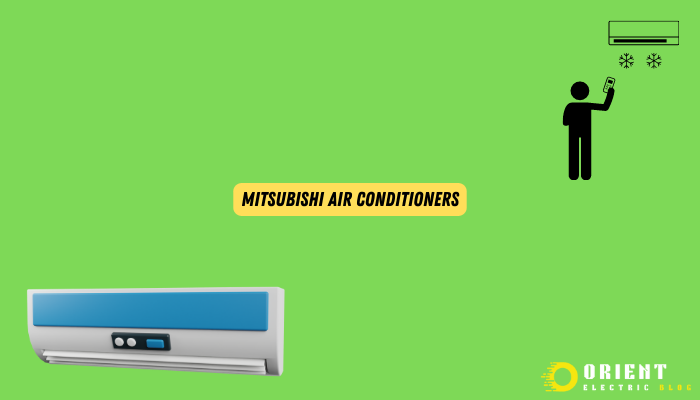 Benefits of Owning a Mitsubishi Air Conditioner:
As repeatedly demonstrated, Mitsubishi air conditioners are unquestionably a favourite among consumers. Mitsubishi is renowned for its top-notch customer service and repair networks and performance. Here are 10 compelling arguments for buying your own Mitsubishi air conditioner for your room if you're still unconvinced.
1. Durability:
Mitsubishi air conditioners are more affordable in the long run and provide long-lasting comfort with little repairs. Mitsubishi air conditioners are also slow to malfunction and come with extensive warranties. When maintained properly, they survive for 8 to 10 years.
2. Convenience:
Convenience is now a standard feature in every home and business in the age of technological technology. No matter where they are in the room, users of Mitsubishi air conditioning units can control any settings using the remote control.
3. Low To Silent Operation:
This is ideal for people who have trouble falling asleep and who normally enjoy sleeping. Compressor noise is the last thing you want as you drift off to sleep. The Mitsubishi AC's low-speed fans help you have a good night's sleep.
4. Energy Efficiency:
Is Mitsubishi AC energy efficient? You may be thinking. Stop wondering now. A Mitsubishi air conditioner will evenly chill or heat your area in all directions and contribute to energy conservation. Greetings, lower electricity costs! This is excellent for newly purchased air conditioners or even newly purchased homes.
5. Improved Air Quality:
Improved air quality is certain to be created with routine servicing and maintenance. Mitsubishi air conditioners also include two films that block any dust and bacteria entry. With this development, you and your loved ones can live in a healthier environment.
6. Multiple Modes:
It is essential to highlight even though this is standard across all if not most, air conditioning brands. You can select the setting that gives you the most comfort from Automatic, Cooling, Dry, Heating, Fan Only, and Eco Mode, which total at least five choices.
7. Greater Comfort & Flexibility:
What more could you need with its versatile installation options, simple controls, and many modes? You may provide yourself and your loved ones with better and safer comfort with just one device.
8. Eco-friendly:
You automatically reduce the carbon footprint on Earth by using less energy. Turning on your Mitsubishi air conditioner can save energy, reduce utility costs, and help the environment.
9. Easy To Operate, Easier To Maintain:
Your Mitsubishi AC will be swiftly and efficiently installed by a qualified technician and ready for use that day. It is straightforward to operate with a quick, easy remote click. You need not worry and may continue to enjoy the high-quality air given by the one and only Mitsubishi air conditioner because this AC needs occasional minor checks.
10. Cost-effective:
We are all aware that excessive power bills can result from uncontrolled usage, but it can also be exhausting to monitor one's usage of electricity continually. In particular, in the convenience of your own home. Mitsubishi makes it easy to select an air conditioner that is both functional and affordable. It manifests as minimal malfunctions, extensive warranties, and reduced energy use.
Types of Mitsubishi Air Conditioners:
Here is a quick list of the top Mitsubishi air conditioners you should consider adding to your collection of home appliances. Decide further page-scrolling and research.
---
1-Mitsubishi Heavy Duty SRK25CSS-S6/A 2.2 Ton AC:
With a huge capacity, this 2.2 Ton Air Conditioner is an attractive choice for cooling down the space. It has a copper condenser type to provide energy-efficient cooling.
Thanks to its Auto-Restart feature, there is no need to reset the settings after a power outage manually. Additionally, it has a Sleep Mode that automatically regulates the temperature for your utmost comfort while you sleep.
Examine some of the top qualities that make this AC worthwhile of consideration:
7700 Watts is the minimum cooling capacity.
3 stars for BEE star ratings
5 years of compressor warranty
Product warranty of one year
Dust-Reducing Filter
Rest Mode
Booster Mode
---
2-Mitsubishi Heavy Duty 1.5 ton Inverter AC:
Mitsubishi Inverter ACs have a 1.5-tonne capacity and use Jet Flow technology to deliver 15 to 17 meters of airflow to every nook and cranny of the space. You may get a peaceful night's sleep thanks to the ultra-low noise setting on this air conditioner.
Long Reach Air Flow, Lateral Swing, Sun Filter, ECOSmart – Hyper Inverter 3D and Enzyme Filter are a few additional features that make this air conditioner a worthwhile investment. This product also includes an anti-microbial fan further to prevent the growth of bacteria and other hazardous microbes.
Check out some of the top features and characteristics here:
The compressor has a 5-year warranty, and the product has a 1-year warranty.
R32, a refrigerant
Maximum air throw height of 10 meters
3 stars for BEE star ratings
Nano-Air Purifier
---
3-Mitsubishi Heavy SRK 18YXS2-W6 1.6 Ton:
If you need an air conditioner to cool off a standard room, get the Mitsubishi AC 1.6 Ton and take advantage of cooling that uses less energy. Since this product has received five stars, you can enjoy outstanding cooling without incurring significant electricity costs.
It has a Long Reach Air Flow that distributes cold air throughout the room, enhancing your comfort. Its absolute safety is another factor that makes this Air Conditioner worthwhile to include in your summer wardrobe. Anti-Microbial Fan, Self-Clean Operation, Sun Filter, Enzyme Filter, and Self-Diagnostic are just a few of the features the device offers.
Below are a few of the top attributes:
Maximum air throw of 17 meters
3D Plus 3D auto air distribution
Five stars for BEE
R32, a refrigerant
---
4-Mitsubishi Heavy SRK13YXS-W6 1.1 Ton AC:
Are you looking for a compact indoor unit? Get superior cooling by including a Mitsubishi 1.1 Ton Inverter AC in your home appliances. It has a Hi-Power mode that immediately releases robust and cool air for 15 minutes.
You can create three separate air flow controllers with 3D Auto to ensure that the airflow reaches every part of the space. With Nano Air Filter technology, this air conditioner cleans and filters dust to deliver the purest air possible.
Below are some of the characteristics of this air conditioner:
Filter with anti-allergens and activated carbon
5 stars for BEE star ratings.
The flow of Long-Reach Air
Auto Lateral Swing in 3D
Frequently Asked Questions:
1-How long do Mitsubishi air conditioners last?
A: With the proper maintenance and care, Mitsubishi air conditioners can last up to 20 years.
2-Are Mitsubishi air conditioners energy-efficient?
A: Indeed, the inverter technology used in Mitsubishi air conditioners provides energy efficiency and lower energy costs.
3-Can I install a Mitsubishi air conditioner myself?
A: It is advised to hire a professional installer to ensure correct installation and avoid potential risks.
4-How often do I need to clean or replace the air filters in my Mitsubishi air conditioner?
A: It is advised to regularly clean or replace the air filters every three months or more in locations with high dust levels and pollutants.
5-Does the Mitsubishi air conditioner come with a warranty?
A: The length of the manufacturer's warranty that comes with Mitsubishi air conditioners varies based on the model and the purchase location.
Conclusion:
For homeowners and business owners, Mitsubishi air conditioners provide many advantages, including energy economy, silent operation, and cutting-edge technology that help improve indoor air quality and comfort.
You may select the ideal Mitsubishi air conditioner for your requirements by considering room size, energy efficiency, noise level, indoor air quality, and budget. Also, remember that effective operation and the long lifespan of your equipment depend on competent installation and maintenance.