Owning a portable air conditioner during India's hot months may be a lifesaver. A portable air conditioner is an independent, space-saving device that may be used to cool the air in a particular room. Portable air conditioners are a great alternative for those who live in compact places, such as apartments, since they can be moved about easily from one room to another.
During the Indian summer, a portable air conditioner could be helpful to cool down the home and make life more bearable for its occupants. India's summers are infamous for being very hot. You may use a portable air conditioner for various activities, such as working from home and spending time with family.
In this article, we'll discuss the top portable air conditioners available in India right now, what to look for when searching for one, and other things to consider before buying. We will also advise you on how to maintain the best possible condition for your portable air conditioner.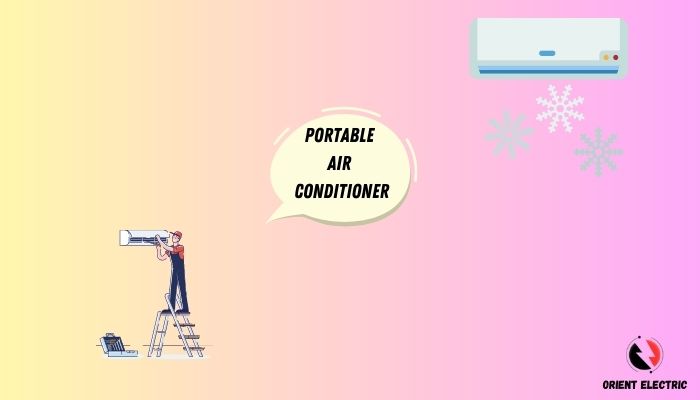 Factors to Consider When Buying a Portable Air Conditioner in India
If you're in the market for a portable air conditioner in India, remember a few things before making your final purchasing decision. Some of the most crucial considerations are listed below:
BTU Rating: How proficiently an air conditioner produces cold air is measured in British Thermal Units (BTUs) (BTU). The BTU rating of an air conditioner is highly correlated with its overall cooling capacity. It's essential to consider the square footage you need to cool when shopping for a portable air conditioner. A unit with a low BTU rating could find it challenging to cool a large space efficiently. A higher BTU rating device, on the other hand, can waste energy, resulting in greater than required monthly power expenses.
Room Size: As was just said, while searching for a portable air conditioner, the size of the area that has to be cooled is an essential factor. A stronger air conditioner will be needed as the space grows. A portable air conditioner could benefit up to 300 to 400 square foot areas.
Making Effective Use of Energy: The effectiveness of portable air conditioners may impact how much electricity is required to run them. Choose a model with a high energy efficiency ratio (EER), contrasting the appliance's cooling power output and electricity consumption. You will spend less money on electricity if your EER is higher.
Noise Level: If you wish to use a portable air conditioner in a peaceful area like a bedroom or study, their noise level may be problematic. Consider purchasing a product with a low dB rating. According to the general agreement, the silent zone is between 50 and 60 dB.
Price: There are several different price points for portable air conditioners. It may not be wise to spend more money on a unit simply because it has more functions or a higher BTU rating if the area you need to cool is not very big. Create a budget, then look for a unit that satisfies your demands while staying within your constraints.
Benefits Of Using A Portable Air Conditioner In India:
Using a portable air conditioner in India can provide several benefits, including:
Cost-Effective: Portable air conditioners are often more cost-effective than central air conditioning systems for consumers who don't want to spend a lot of money cooling their houses. Portable air conditioners eliminate the need to buy many units for a single residence because of their mobility.
Easy and quick to set up and use: An HVAC specialist is not necessary to set up a portable air conditioner since it is straightforward. Most units come with a window kit that can be installed in minutes. After it has been set up, a portable air conditioner has to be plugged in and turned on.
Mobility and Flexibility: The mobility and versatility of a portable air conditioner are, as was previously said, its most significant selling points. The flexibility to relocate this cooling system to other places as needed is an important benefit. Most units may also be relocated without hurting your flooring since they are all fitted with caster wheels.
Interior Air Quality Has Improved: In addition to chilling the air, portable air conditioners may also help to purge the air of allergens like dust, pollen, and other particles. This might lead to an improvement in the quality of the indoor air, which would benefit those who have respiratory problems.
Making Effective Use of Energy: As portable air conditioners only need to cool the rooms where people are present, they are typically more economical than whole-house systems. Also, the majority of the devices include energy-saving options, which further lowers power use.
Lastly, a portable air conditioner is the most sensible, affordable, and versatile choice if you're considering how to cool down your Indian home. It has a small energy footprint and may save your monthly energy expenditures by enhancing the air quality in your house.
Top Portable Air Conditioners Available In India:
Check out our list of the top portable air conditioners available in India now that you know what to look for and why it is crucial.
The LG LP0817WSR: With an 8,000 BTU cooling capacity, this window-mounted air conditioner is perfect for spaces up to 150 square feet in size. Because of the automated evaporation mechanism already built-in, the water tank does not need to be regularly refilled. Thanks to its remote control and LED screen, the gadget is simple to use.
Mo08CESWK by Honeywell: With a cooling capacity of 8,000 BTU, this device can efficiently chill rooms up to 350 square feet. It includes an energy-saving sleep mode, a cleanable filter, and a self-evaporation mechanism. The equipment is made more portable via caster wheels and remote control.
Blue Star portable air conditioner, one ton: With a cooling capacity of 12,000 BTU, this device is perfect for rooms up to 150 square feet. For your comfort and simplicity of use, it has a 24-hour timer and a self-diagnosis feature. The gadget incorporates an LED screen and a remote control for added convenience.
One-ton transportable AC unit made by Croma: With a BTU output of 12,000, it can cool areas up to 150 square feet. It could swing automatically to cool various room regions at multiple periods. The gadget also contains a timer and a sleep mode for your comfort.
Lenovo HPND14XCT from IBM: With a cooling capacity of 14,000 BTUs, this portable air conditioner is adequate for cooling areas up to 500 square feet in size. It contains a built-in dehumidifier and a fan with three settings. Together with the device itself, the packing also includes a remote control and wheels for easy transportation.
The list below contains some of India's top portable air conditioners. It's crucial to consider the space you have, your budget, and the unit's energy efficiency before choosing one.
Tips For Using A Portable Air Conditioner In India:
To get the most use out of your portable air conditioner and to keep it running at its best, keep the following in mind:
Place the unit near a window: Open a window or door to let out the warm air generated by portable air conditioners. Ensure the gadget is placed close to a window and the exhaust pipe is attached and pointed outside.
Close the door behind you: The effectiveness of your cooling system will enhance if you close the entrance to the room since portable air conditioners can only cool the area they are designed for.
Use the right BTU: Make sure the BTU rating is enough for the room by checking it. Your monthly energy expenses will increase if the appliance is inefficient, and your house will get uncomfortable and warm if it is too powerful.
Clean the filter regularly: Portable air conditioners frequently include filters that catch dust and other particles. The filter must be cleaned often to guarantee optimum airflow and cooling.
Use energy-saving modes: The majority of portable air conditioners include power-saving settings that may dramatically reduce how much electricity they use. These techniques may help you lower the cost of your monthly power bill.
Keep the unit clean: The outside of the gadget may be kept spotless by regular cleaning and washing off with a moist cloth. As a consequence, the device will operate better and look better.
If you adhere to these recommendations and maintain your portable air conditioner in excellent condition at all times, you can get the most use out of it. This would enable you to maintain a decent body temperature even during India's sweltering summers.
Conclusion:
Portable air conditioners are a sensible and affordable option to keep your house pleasant during India's hot and muggy summers. With so many choices available, choosing the ideal model, feature combination, and size is critical.
The BTU rating, room size, energy efficiency, and extra features and functions like a remote control and programmable timers of a portable air conditioner are all crucial factors to consider. Be careful to install and maintain your new appliance by the manufacturer's instructions if you want it to function well and last as long as possible.
By using the tips and recommendations in this article, you may learn how to choose a portable air conditioner and get the most out of it. You won't have to give up comfort or mobility to take advantage of India's mild climate.