Although water is necessary for life, it is not always clean or safe to drink. Even if tap water seems clear and odourless, it could contain impurities that eventually endanger your health. Therefore, investing in a water filter is wise to guarantee that your drinking water is clean and safe to consume.
Selecting the best water filter for your home might be unclear with so many options on the market. This blog post discusses the top seven home water filters that may help you eliminate dangerous contaminants and ensure your family can access clean drinking water. Let's get going!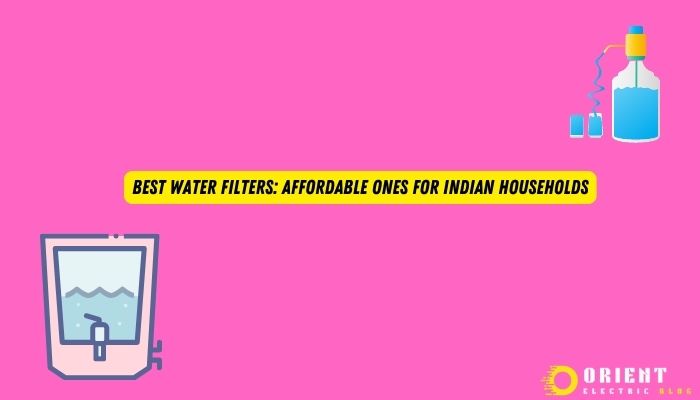 Best Water Filters for Home – top rated
Water filters remove pollutants and improve taste, odour, and safety. Pitcher, countertop, under-sink, and whole-house water filters are offered. Your lifestyle, budget, and water toxins determine the ideal water filter for your home. Finding the right water filter requires research and comparison.
1. Livpure Bolt Mineraliser Water Purifier: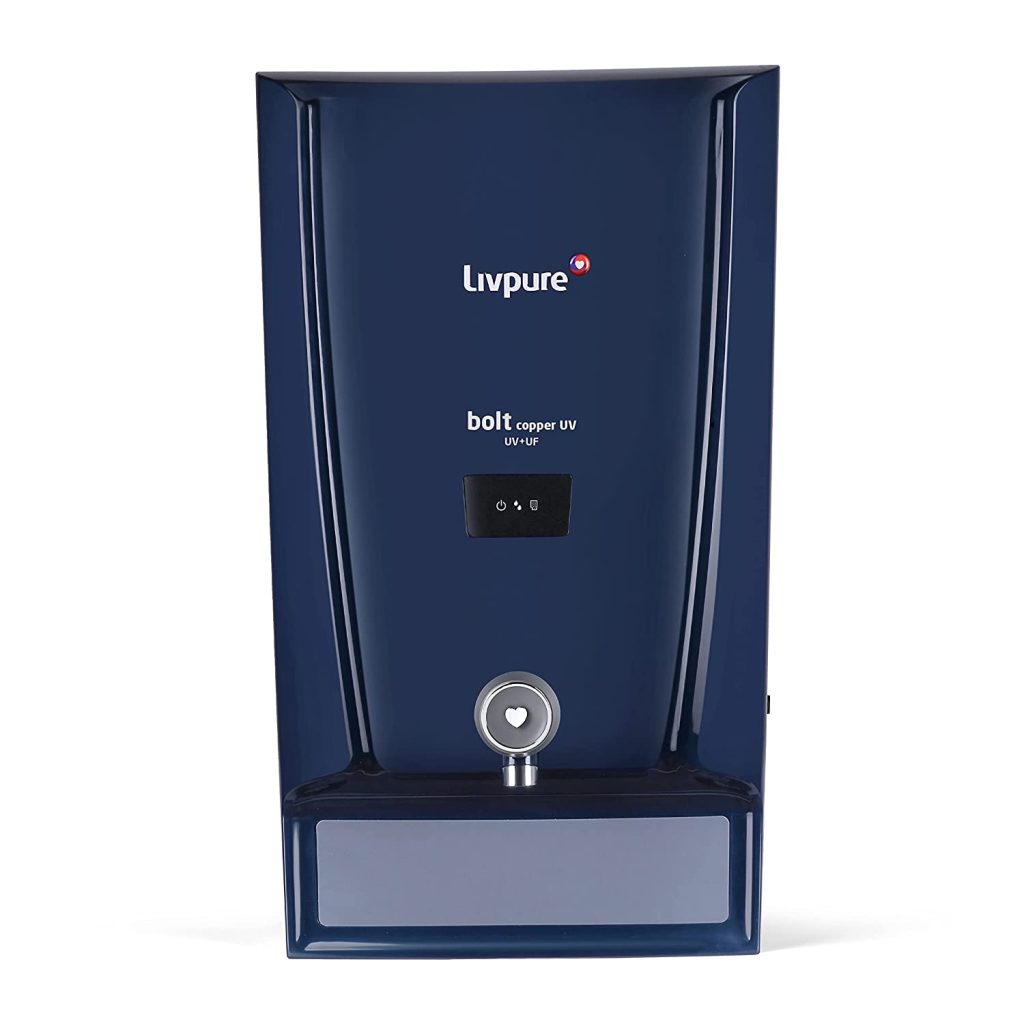 The Livpure Bolt Mineraliser water purifier is a sleek and fashionable device that fuses contemporary design with cutting-edge technology. Its goal is to purify the water so you can drink it and stay healthy by eliminating pollutants, germs, viruses, and other hazardous elements.
The Livpure Bolt Mineraliser water purifier uses a six-stage filtration method to clean the water. Sand, dust, and rust-containing suspended particles are removed in the first stage of the sediment filter. The pre-activated carbon filter, used in the second stage, eliminates chlorine and other organic contaminants.
The antiscalant filter, which is the third stage, stops scaling and prolongs the life of the RO membrane. The RO membrane, used in the fourth stage, eliminates dissolved pollutants like fluoride, heavy metals, and pesticides.
The fifth stage is the UV disinfection chamber, which destroys germs and viruses. The mineraliser, which is the final and sixth stage, enriches the cleaned water with necessary minerals.
Up to 15 litres of water can be purified every hour by the Livpure Bolt Mineraliser water purifier, which has a 7-litre storage capacity. It has an LED display that indicates the water level and level of filtration. The device has a one-year warranty and is simple to install and maintain.
Pros
Advanced mineralised technology for enhanced water quality.
Efficient purification system that removes harmful contaminants.
Compact and space-saving design for easy installation.
High purification capacity to cater to large water requirements.
User-friendly interface with intuitive controls for convenient operation.
Cons
Relatively higher initial cost compared to basic water purifiers.

Regular maintenance is

required for optimal performance.
It may

not be suitable for areas with low water pressure.
2. KENT Supreme Copper RO Water Purifier: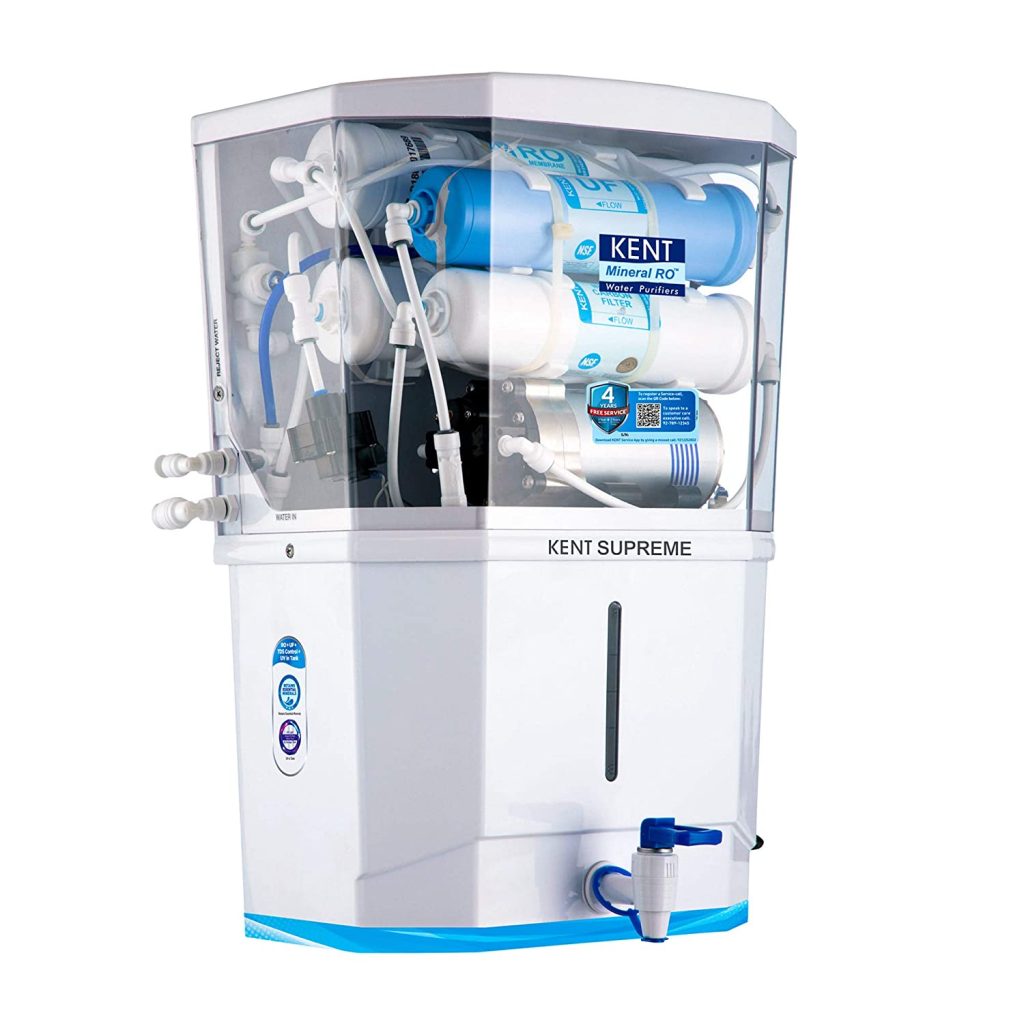 A high-quality water purifier that uses cutting-edge technology to offer clean, safe drinking water is the KENT Supreme Copper RO Water Purifier. This water purifier's standout feature is its special copper technology, which infuses 99.9% pure copper into the water to offer several health advantages.
This water purifier features a dual purification system that combines RO and UV/UF technologies to eliminate all contaminants, including bacteria, viruses, and other dangerous substances. The mineral RO technology in the water purifier also keeps essential minerals in the water.
The KENT Supreme Copper RO Water Purifier is a fashionable addition to any kitchen because of its sleek and contemporary appearance.
The 9-litre storage capacity of the water purifier makes it ideal for large families or offices. The water purifier also includes a filter change and UV fail alert to inform users when the filters need to be changed.
Pros
Copper-infused water with health benefits.
Dual RO and UV/UF purification technologies.
Mineral RO technology preserves essential minerals.
9-litre storage capacity for large families or offices.
UV failure and filter change alarms for maintenance alerts.
Cons
Higher price compared to other devices.
Significant maintenance and service costs.
3. HUL Pureit Water Purifier: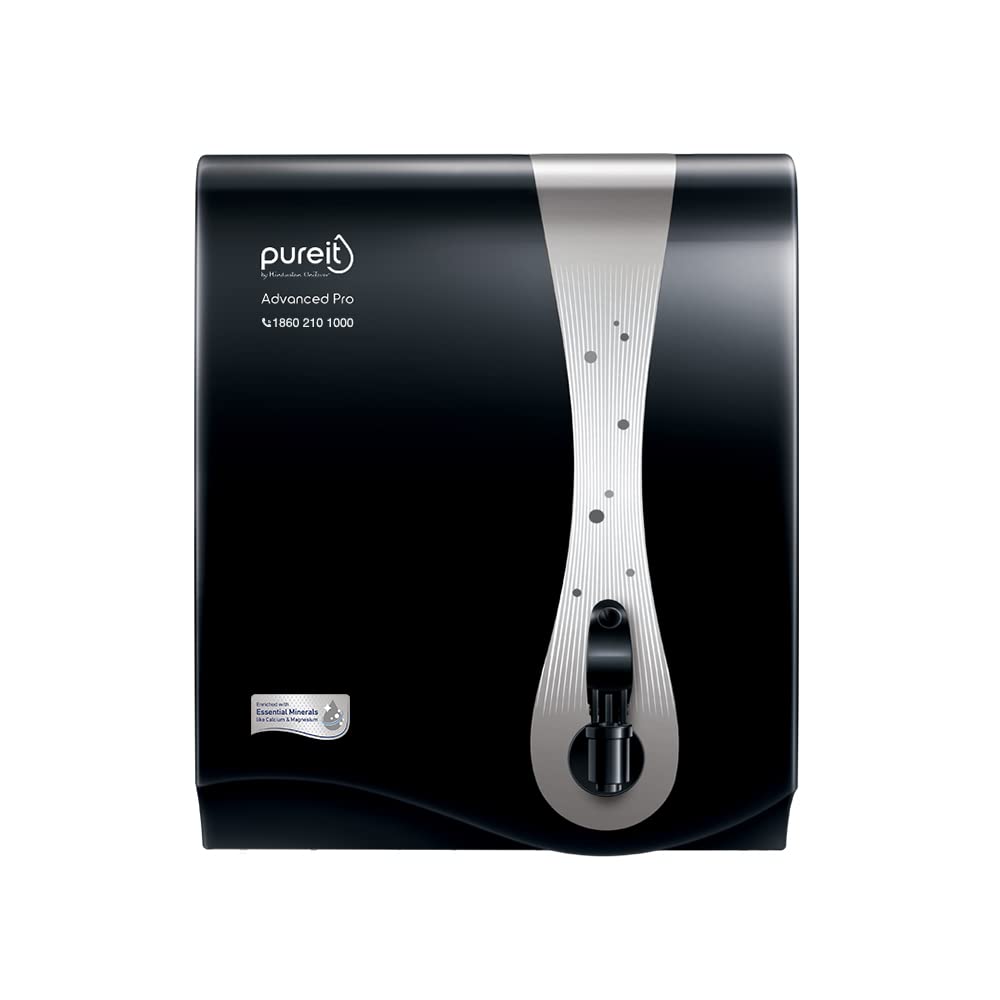 The HUL Pureit water purifier is a well-known name in water filtration. It is a compact, user-friendly device that purifies water using cutting-edge technology.
This cleaner's revolutionary 6-stage filtration process ensures your water is impurities-free. The six steps are the reverse osmosis membrane, UV reactor, pre- and post-carbon sediment filters, and pre-RO carbon filter.
The purifier eliminates all water impurities, including dissolved salts, bacteria, viruses, pesticides, and heavy metals. It enhances the water's flavour by eliminating any offensive scent or flavour. With a capacity of 5-8 litres, the cleaner is ideal for a small family.
The HUL Pureit water purifier installation is simple and involves no plumbing. Because it has a filter replacement indicator that lets you know when the filters need to be changed, it is exceedingly simple to maintain. The purifier's modern, clean form raises the aesthetic value of your kitchen.
Pros
Innovative 6-stage filtering process ensures pure water.
Easy installation without the need for plumbing.
Convenient filter replacement indication for easy maintenance.
Modern and clean design enhances kitchen aesthetics.
Ideal capacity for small families (5-8 litres).
Enhances water flavor by removing odors and tastes.
Cons
Not suitable for large families or offices due to capacity restrictions.
Limited effectiveness in removing specific toxins like fluoride or arsenic.
Expensive and frequent replacement of filters based on consumption.
4. Eureka Forbes Aquaguard Aura: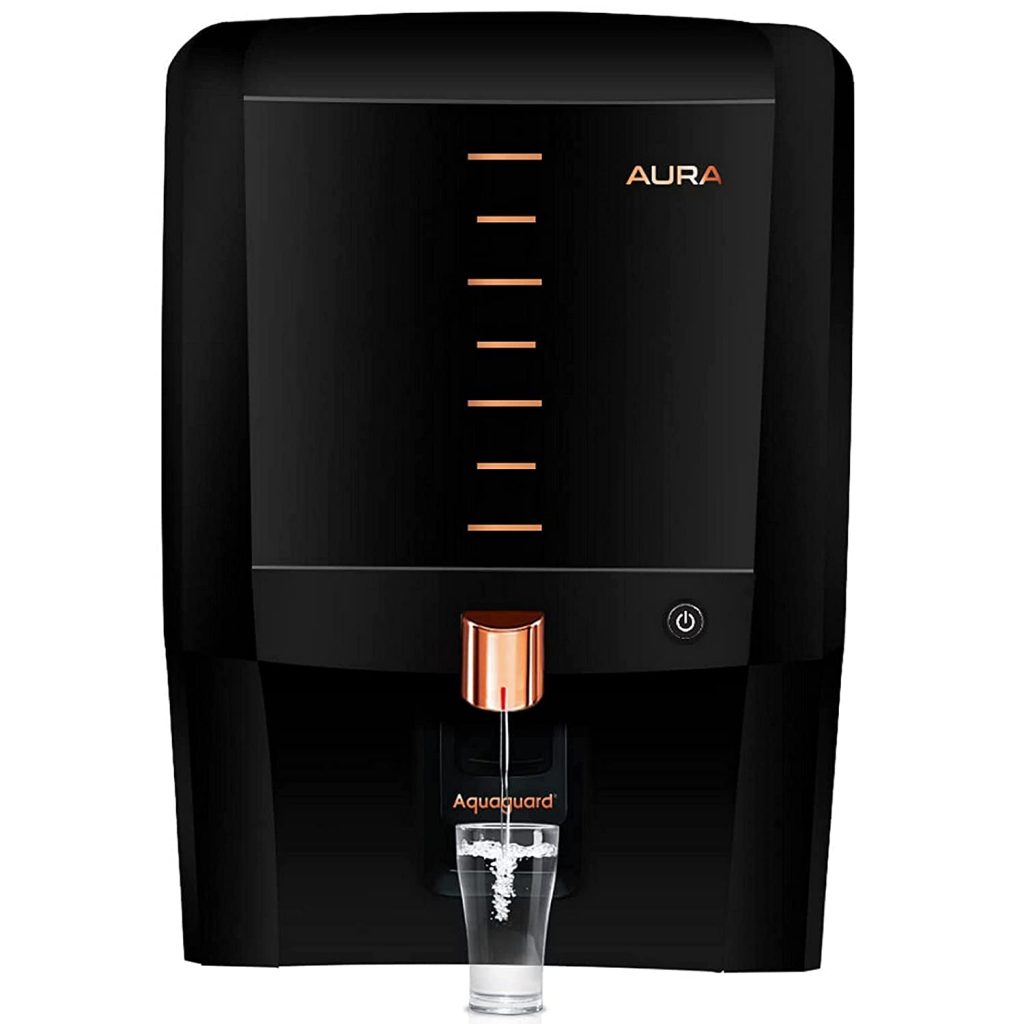 Eureka Forbes created the Aquaguard Aura water purifier to provide clean and secure drinking water. It purifies the water using cutting-edge technology to eliminate impurities and dangerous compounds, ensuring you always get clean, healthy, and reviving water.
The purifier's clean and fashionable form fits in beautifully with contemporary decor. It has a special three-stage purification process that eliminates contaminants and germs like bacteria, viruses, and cysts. Through the use of a sediment filter, bigger pollutants like sand, dust, and mud are initially eliminated.
Activated carbon filters are used in the second stage to filter chlorine and other hazardous compounds. In the third stage, bacteria are eliminated using a UF membrane filter.
The "Intelligent Purity Sensor," a particular function of the purifier, also ensures that you only receive clean, safe water for drinking by continuously monitoring the water quality.
The cleaner has a variety of functions, including auto shut-off, a filter replacement indicator, and a big water storage capacity. It is also simple to operate and maintain.
Pros
Advanced 3-stage purification system eliminates pollutants and germs.
Intelligent purity sensor continuously monitors water quality.
Modern and sleek design complements any decor.
Large capacity for storing water.
Simple to use and maintain.
Auto shut-off feature for safety and convenience.
Cons
Regular cleaning is necessary for the optimal functioning of the

UF membrane filter.

Potentially higher cost compared to similar water purifiers on the market.
5. V-Guard Zenora Water Purifier: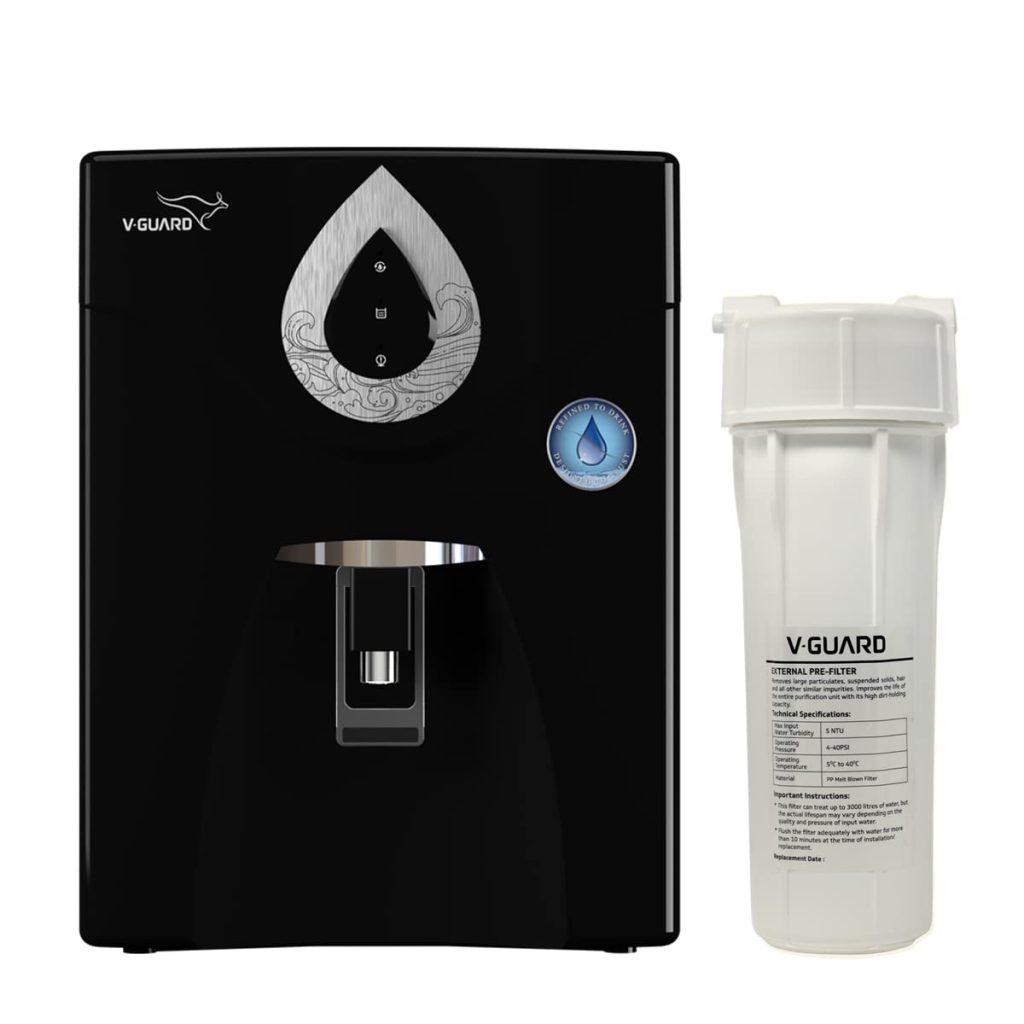 Modern water purification systems like the V-Guard Zenora use cutting-edge filtering technology to provide pure and safe drinking water. A sediment filter, pre-carbon filter, RO membrane, post-carbon filter, UF membrane, and UV light are all components of its six-stage purification system.
To make the water safe and healthful, a multi-stage purification procedure removes all impurities and toxins, including bacteria, viruses, pesticides, and heavy metals.
A smart LED display that indicates the current condition and notifies the user in case of a malfunction or low water pressure is also included with the V-Guard Zenora water purifier. You will always have access to filtered water, even during power outages, thanks to the cleaner's enormous 8-litre storage tank.
With features like an auto-flushing system that keeps the filters clean and efficient and a filter replacement alarm that notifies you when it's time to replace the filters, this water purifier is also incredibly simple to maintain.
Pros
Six-stage purification process ensures safe and healthy drinking water by eliminating contaminants.
A large 8-litre storage tank provides access to clean water even during power outages.
Smart LED display makes maintenance and usage simple, notifying users of any problems or low water pressure.
Hassle-free maintenance with a filter change notice and auto-flushing system.
Cons
Professional assistance may be required and incur additional costs during the installation process.
It may be slightly more expensive than other water purifiers on the market.
6. Blue Star Excella 6 L RO + UV Water Purifier: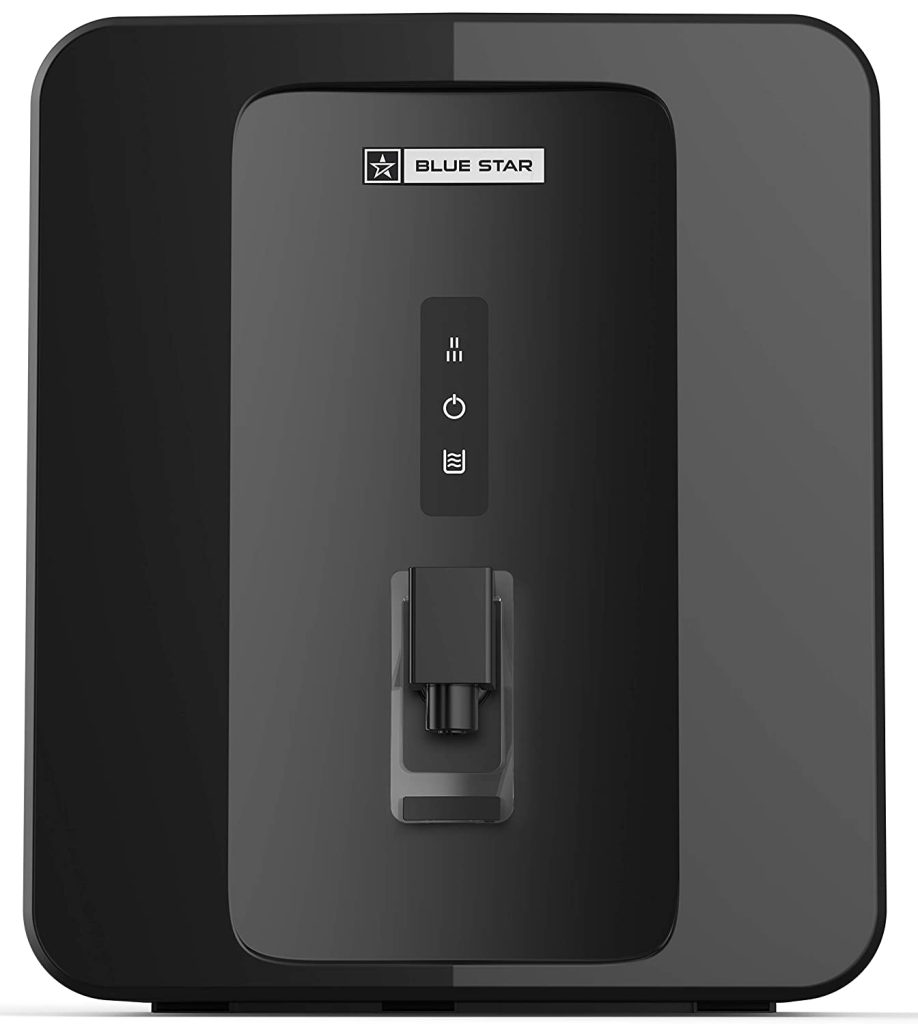 Providing safe and healthful drinking water, the Blue Star Excella 6 L RO + UV Water Purifier is a top-notch water purifier. The cleaner has a 6-litre storage tank and a variety of cutting-edge technologies that clean water of pollutants, germs, viruses, and other hazardous elements.
The cleaner uses a six-stage purification process that includes reverse osmosis (RO), UV sterilisation, pre-sediment filtration, pre-activated carbon filtration, post-carbon filtration, and aqua taste booster.
While the pre-activated carbon filter removes chlorine, volatile organic compounds (VOCs), and other contaminants, the pre-sediment filter removes bigger particles like sand and dust.
UV sterilisation destroys germs and viruses, while the RO membrane filters out dissolved solids and heavy metals like lead, arsenic, and fluoride.
The post-carbon filter removes lingering tastes and contaminants to improve the water's taste. The aqua taste booster returns the water's original flavour by reintroducing essential minerals into the filtered water.
The cleaner comes with a compact design that makes it simple to fit on any tabletop and simple to install. Additionally, it has a child lock mechanism, an LED display, and an alarm that notifies you when the filter needs to be changed or when the purifying process is finished.
Pros
Six-stage filtration procedure ensures safe and healthful drinking water.
The compact design allows for easy installation and saves countertop space.
UV sterilisation technology eliminates bacteria and viruses, providing extra security.
LED display and alert feature make it easy to monitor the purification process.
Cons
The cleaner can be noisy during operation.
The storage tank can fill up quickly during the lengthy RO purification process.
Periodic filter replacements may add to the expense.
7. Eureka Forbes Aquasure: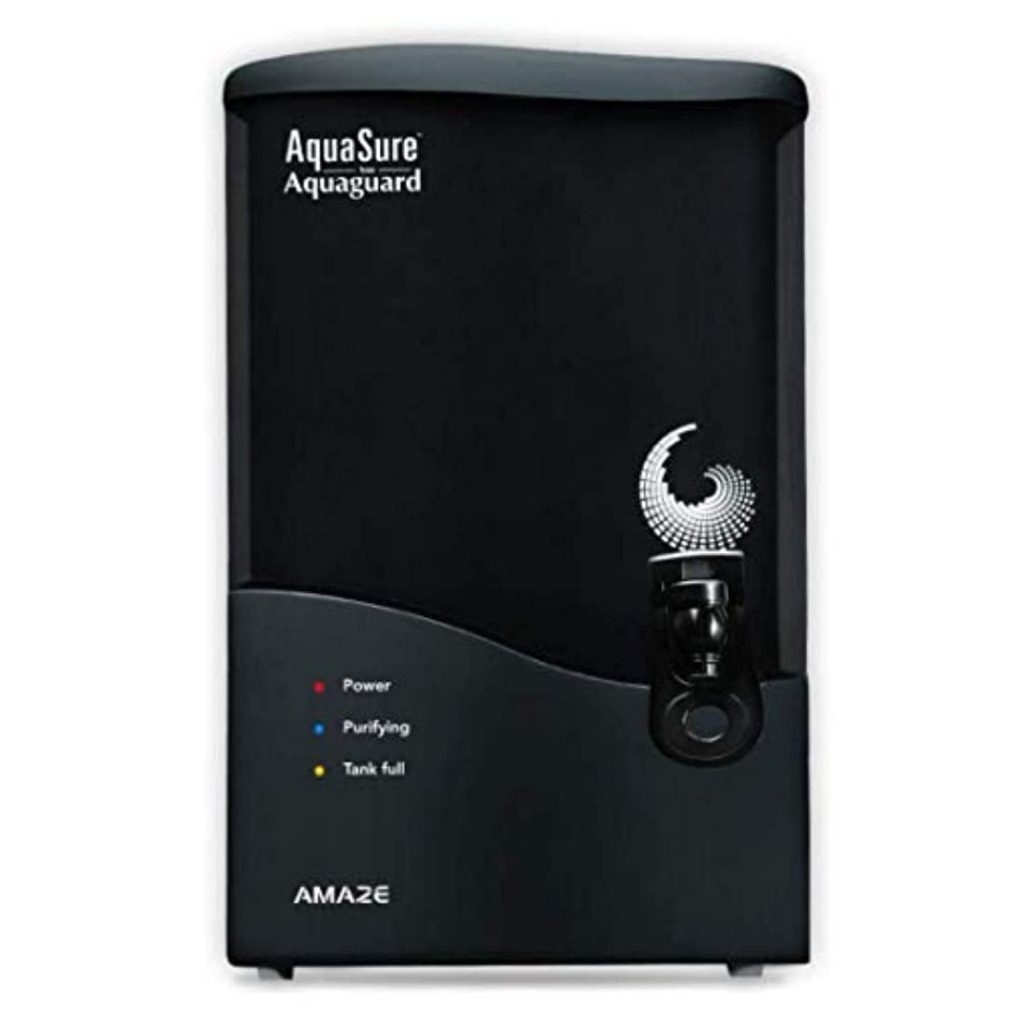 A line of water filters called Eureka Forbes Aquasure was created to offer clean, safe drinking water. The Aquasure line includes several models with electric and non-electric options and various purifying modalities like UV, RO, and UF. These cleaners are appropriate for residences, workplaces, and small commercial facilities.
The Aquasure line purifies water through a multi-stage procedure to eliminate contaminants. Depending on the model, the purification procedure may comprise pre-filter, sediment filtration, activated carbon filtration, RO, UV, and UF.
By doing this, you may be confident that there are no pollutants in the water, such as bacteria, viruses, cysts, or chemicals.
Several practical features are also included in the Aquasure line, including smart indicators that warn users when the filter needs to be replaced, indicators for the water level, and automatic shut-off mechanisms that save water waste. A storage tank is also included with the electric variants to guarantee that clean water is always accessible.
Pros
Multi-stage filtration process ensures safe and pure drinking water.
Electric models come with tanks for a constant supply of clean water.
Smart indications notify users when filters need to be replaced.
Space-saving and compact design.
Simple installation and easy to use.
Cons
Electric models require a power supply, limiting their use to certain locations.
RO purification process may result in water wastage.
Some models may be more expensive due to routine maintenance and filter replacements, increasing overall costs.
Conclusion:
Investing in a water filter ensures you and your family clean and safe drinking water. The top seven home water filters discussed in this article offer a range of options to suit different needs and budgets.
From advanced purification technologies to compact and user-friendly designs, these filters efficiently remove contaminants and improve water taste and odour.
However, it's important to consider maintenance requirements, installation limitations, and ongoing costs. With proper research and comparison, you can select the best water filter that meets your needs and ensures a continuous supply of clean drinking water.