India's summers may be excruciatingly hot and muggy, making it difficult to be comfortable and keep a cool body temperature if you do not have access to an efficient cooling solution.
Due to their portability and simplicity, rechargeable fans have become popular in recent years. Rechargeable fans have become more popular recently, even though traditional ceiling and table fans have long been the preferred choice for many households.
Rechargeable fans are the ideal cooling solution for individuals continuously on the go, such as travellers, campers, or residents of areas that frequently have power outages. They have USB-rechargeable internal batteries. They use a fraction of the electricity of conventional fans, making them cheaper and better for the environment.
Best Rechargeable Fans in India – Top 6 pick
Rechargeable fans are convenient in areas without electricity or when blackouts occur regularly. These fans have solar panels, household outlets, and automobile chargers to power their built-in batteries. India is embracing lightweight, eco-friendly, and efficient rechargeable fans. This post will look at six of India's best rechargeable fans.
1. CONBOLA Bladeless Fan Small Table: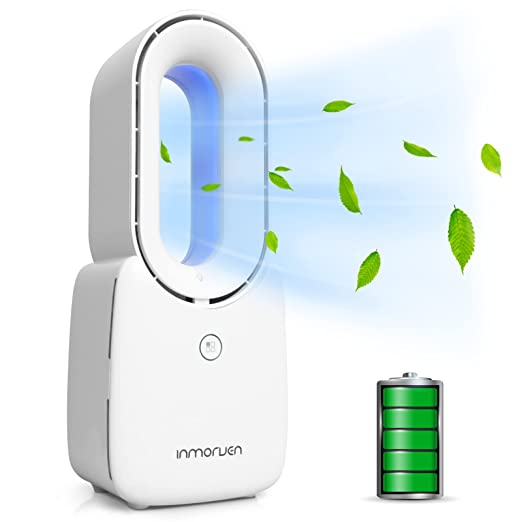 The bladeless CONBOLA Desk Fan is made to be lightweight, portable, and powerful. It has an 11.8-inch bladeless design that offers an airflow that is constant and quiet without using noisy blades. The fan uses a DC motor that offers practical and quiet performance.
A rechargeable battery that powers the fan is included, and it has a 10-hour runtime. A USB cord included with the fan can be used to charge it. A built-in LED light that can be used as a nightlight or an emergency light is also included with the fan.
Three different speed settings on the CONBOLA Desk Fan can be changed to suit your requirements. Additionally, you may guide the airflow at a 120-degree adjustable angle to the areas that require it the most. The front of the fan incorporates a touch control screen, making it simple to use.
Pros
Bladeless architecture provides a constant and smooth airflow.
10 hours of battery life on a single charge.
Built-in LED light for usage at night or in emergencies.

Angle-adjustable for directed airflow at 120 degrees.

Touchscreen controls for easy use.
Cons
They are possibly less potent than conventional fans.
2. Piesome USB Rechargeable Desk Fan: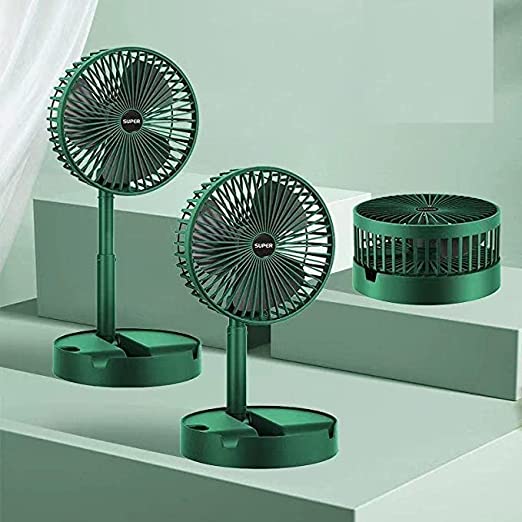 The Piesome USB Rechargeable Desk Fan is a height-adjustable, foldable, and portable telescopic electric desktop fan that is an excellent option for travel or hauling. You can use the fan anywhere without a power outlet because of its built-in rechargeable lithium-ion battery, which can be charged using a USB cable.
The fan has a telescoping pole that can be raised or lowered to accommodate different heights, allowing it to be used as a standing or desk fan.
Thanks to its collapsible form, it may be easily carried and stored when not in use. You will always keep relaxed and comfortable thanks to the fan's strong motor, which produces a strong and constant breeze.
Three-speed settings on the Piesome USB Rechargeable Desk Fan let you select the ideal airflow for your need. Additionally, it contains an integrated LED light that may be used as a nightlight or a flashlight. The fan is simple and has a user handbook with step-by-step instructions.
Pros
Lightweight and transportable design.
Using a telescoping pole, you can change the height.
It is simple to transport and store thanks to its foldable form.

A three-speed setting and an LED light offer more comfort.
Cons
The battery life might need to be increased for prolonged use.
When set at a higher speed, the fan could be noisy.
3. SLENPET USB Desk Fan: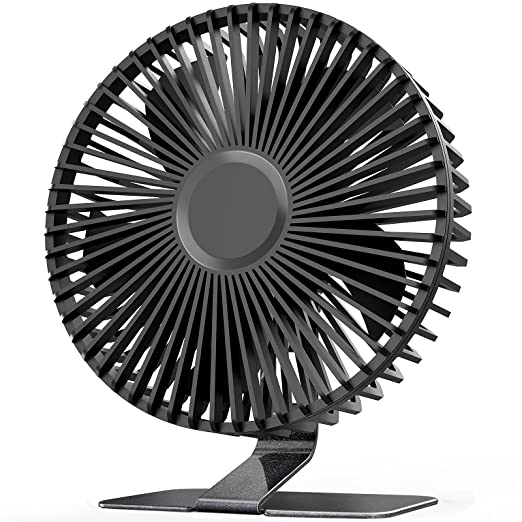 A premium rechargeable fan that is ideal for desktops or tables is the SLENPET 6-inch USB Desk Fan. This fan may be utilised in several settings and is portable due to its small size and low weight.
Four fan speeds may be changed to meet your demands. Additionally, it features a 90° adjustment feature that lets you point the airflow in whatever direction you need.
Due to its extreme quietness, the SLENPET fan is perfect for use in offices or bedrooms. It has a strong motor that produces excellent airflow, and despite its small size, it performs just as well. The fan is simple to charge with a USB connector linked to a power bank, laptop, or other USB-enabled devices.
Because it uses rechargeable batteries, which can be reused many times and eliminate the need to buy disposable batteries, this fan is also environmentally beneficial.
The fan can be transported because of its small size, making it simple to store when unused. The fan is available in a sleek black hue and has a contemporary design that complements any environment.
Pros
Its small size and lightweight construction make it simple to move around.
Customised airflow is provided by the four changeable speeds and 90° adjustment feature.

It is environmentally friendly since rechargeable batteries lessen the demand for throwaway batteries.
Cons
The battery life could not last very long at the maximum speed level.
4. Fippy Rechargeable Battery Table Fan: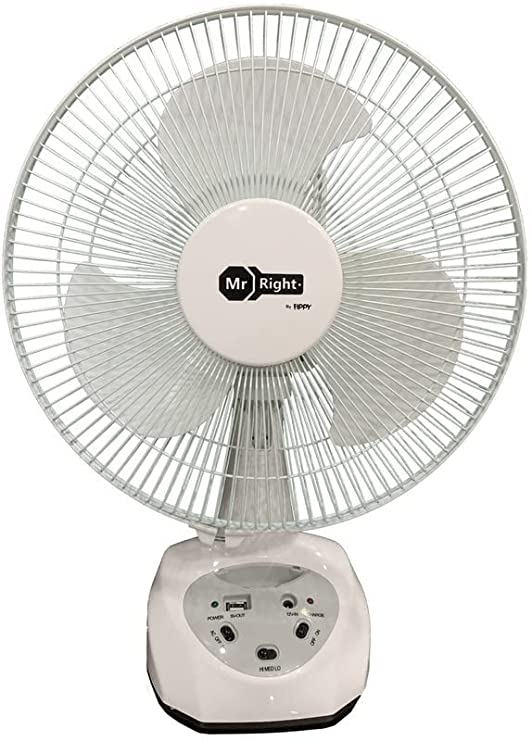 Compact and portable, the Fippy MR-2912 Rechargeable Battery Table Fan features a 3-blade design for robust and efficient air circulation. It has a top-notch rechargeable battery that can operate on one charge for up to 6 hours.
This fan also has a built-in LED light, making it an excellent option for use on camping trips or during a power outage.
A high-quality ABS plastic body gives the fan long-lasting durability and robust construction. It also has a 90-degree oscillation angle, covering a large area. You can choose from the fan's three speeds to tune the speed to suit your preferences.
It is simple to use and charge the Fippy MR-2912 Rechargeable Battery Table Fan with a USB cord. It is portable and lightweight, making it simple to transport to various areas.
Pros
Both are transportable and light.
A rechargeable battery is included.
A 3-speed setting range.
90° oscillation angle for extensive coverage.
Cons
The battery may last for six hours.
5. Geek Aire GF6 Oscillating Mini Fan: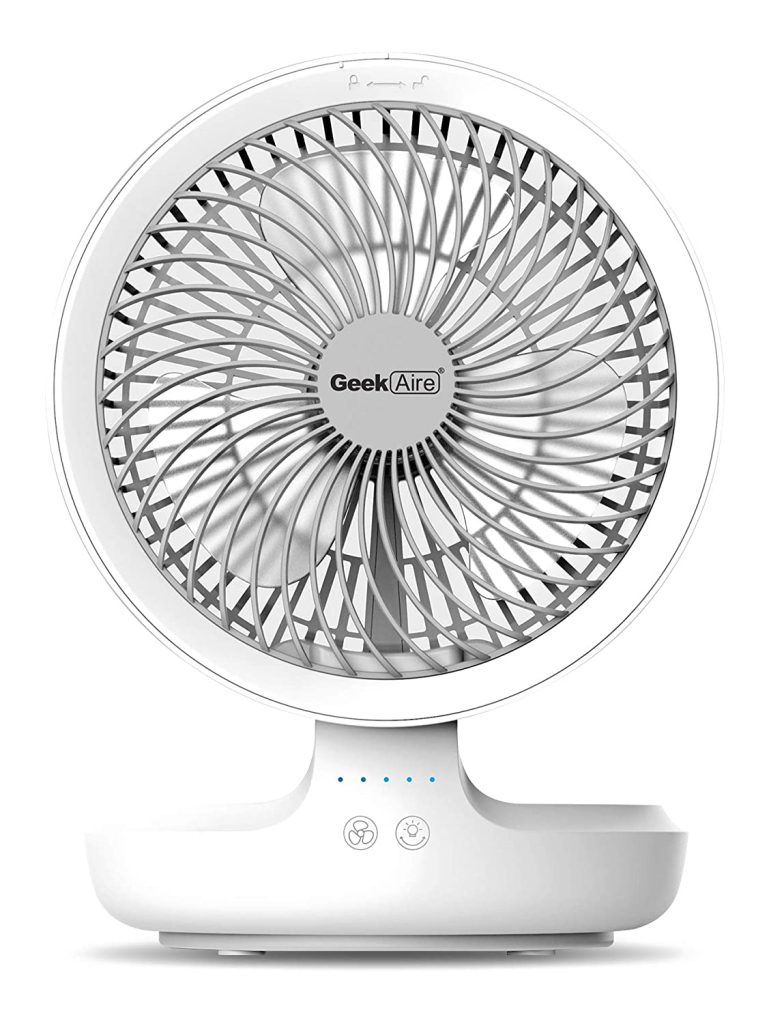 An 8-inch rechargeable tiny table fan with an LED light is the Geek Aire GF6. It is created to deliver adequate cooling in a portable, tiny size. A 5200mAh lithium-ion battery inside the fan allows it to run for up to 20 hours on a single charge. A USB-C cable is provided in the package, and it can be used to charge the battery.
The touch controls on the fan's top allow for simply adjusting the fan's three-speed levels. Additionally, it has a 120-degree tilt angle that lets you direct the wind anywhere you like. When you need it, the LED light is a valuable feature that adds more illumination.
The fan may be utilised in various locations, including your office, bedroom, or outdoor regions, thanks to its small size and lightweight. A further degree of assurance is provided by the one-year warranty that is included with the fan.
Pros
A 20-hour battery life is long.

Customised airflow with three-speed settings.
120° tilt angle for adaptability.
LED lighting adds more illumination.
There is a USB-C charging cord in the packaging.
Cons
The modest size of the fan might not be appropriate for larger rooms or places.
6. Bajaj Pygmy Mini Usb Charging Personal Fan: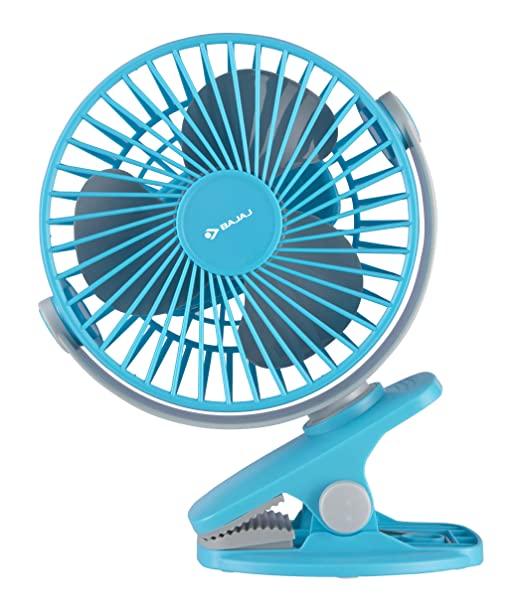 The compact and lightweight Bajaj Pygmy Mini rechargeable fan operates at high speed of 110 mm and 10 watts. The fan can run for up to 8 hours on a single charge and can be charged by USB connection.
Additionally, this fan features a multi-clip feature that enables it to be attached to a table, bed, or other surface. The fan is perfect for personal use because of its sleek design and portability.
The Bajaj Pygmy Mini rechargeable fan is ideal for use in tiny rooms, offices, and outdoor locations and has a strong motor that delivers excellent air distribution.
The fan is composed of high-quality materials and has a durable design to ensure a lifetime. The fan is an excellent option for anyone who wants to lessen their carbon footprint because it is also eco-friendly and energy-efficient.
Pros
110 mm and 10 watts of high-speed operating.

A USB cable can be used to charge it.
Multi-clip capability for simple placing.
Useful in offices, compact spaces, and outdoor areas.
Robust construction and use of premium components.
Cons
Possibly inappropriate for larger rooms or places
Some users may find the fan to be too loud.
Conclusion:
India uses rechargeable fans for cooling due to their portability, simplicity, and eco-friendliness. Consider battery life, charging time, and oscillation for the best rechargeable fan bargain.
The top six Indian rechargeable fans are listed here. You can choose a fan based on its characteristics and benefits. The powerful Havells Swing LX and compact Crompton Sea Wind meet all needs.
A rechargeable fan keeps you cool and saves electricity while travelling. Summer heat? Get the best rechargeable fan.