Kickstart your day with a burst of vitality as you savour the goodness of freshly squeezed juices. If you find joy in this invigorating practice, consider embracing the convenience and efficiency of a premium electric juicer. In India, a burgeoning hub for health-conscious consumers, many options await—electric juicers in varying sizes, designs, and price ranges.
Selecting the optimal electric juicer from this array can be daunting. This article simplifies the process by presenting a detailed review of India's seven best electric juicer machine.
Each featured juicer promises improved efficiency, unwavering reliability, and seamless portability, catering to the discerning needs of juice enthusiasts.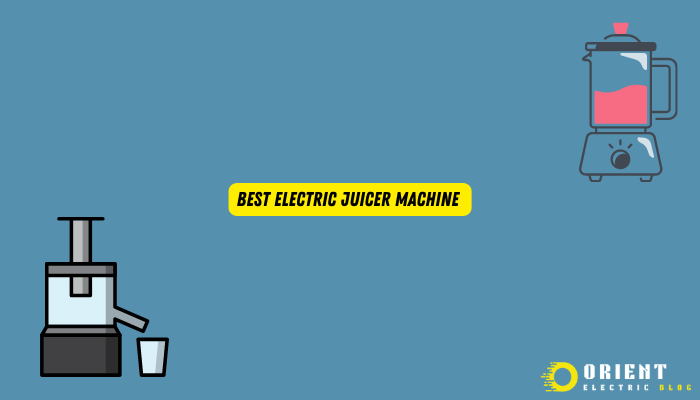 7 best electric juicer machine:
Electric juicers generate fresh juice at home easily. These juicers use electricity to juice fruits and vegetables. Here are India's five best electric juicer machine for high-quality juicing.
1. Borosil Primus Juicer: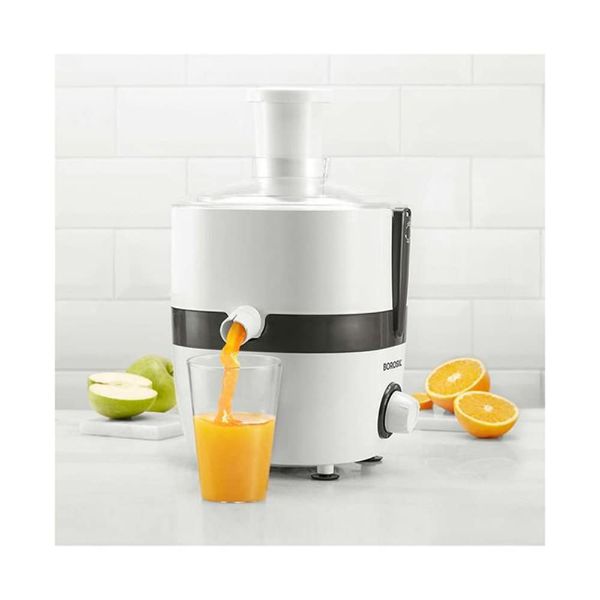 Obtaining fresh juice from fruits and vegetables is quick and simple with the Borosil Primus Juicer, a high-quality juicer. Because this juicer is composed of premium food-grade components, including toughened glass and stainless steel, it will survive very long. Juicing mesh filter and juicer's powerful 500-watt motor ensure that the juice extracted is pulp and seed-free and of the highest quality.
There is no need for time-consuming pre-cutting because the Borosil Primus Juicer has a wide-mouthed feeding tube that can fit whole fruits and vegetables. Depending on the item being juiced, the juicer has two-speed options that enable personalized juicing—cleaning up after juicing is quick and simple, thanks to the juicer's anti-drip spout and retractable pulp container.
The Borosil Primus Juicer offers exceptional performance and a stylish design that blends in with any kitchen decor. The juicer is a stunning addition to any countertop because of its streamlined, modern design and sophisticated finish.
Pros
Strong motor for effective juicing

Easy-to-use feeding tube with a wide mouth

Customized juicing with two-speed settings
Cleaning up is simple, thanks to the anti-drip spout and removable pulp container.
Any kitchen looks stylish with an attractive design.
Cons
Quite pricey in comparison to other juicers in its class.
2. Rico Electric Juicer: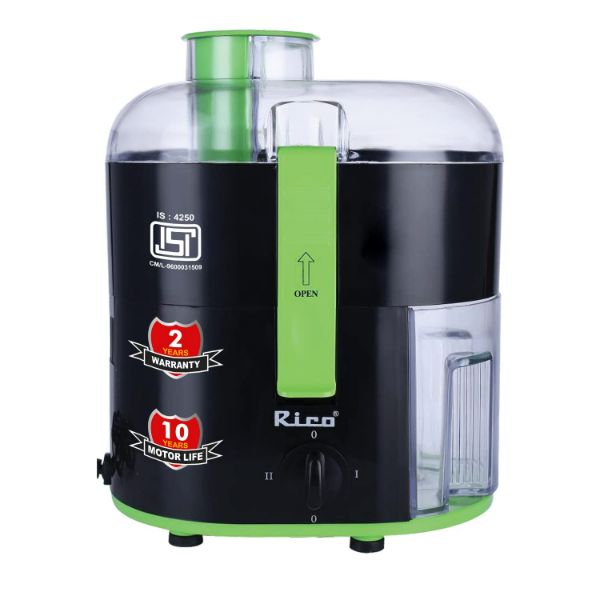 A top-notch device for squeezing fresh juice from fruits and vegetables is the Rico Electric Juicer. The juicer has a strong engine that can swiftly and effectively process a variety of produce, including leafy greens like spinach and kale, as well as hard vegetables like carrots and beets.
Large feed chutes built inside the juicer can hold whole fruits and vegetables, eliminating the need for pre-cutting and saving time. The chute is also made to operate smoothly and avoid clogging.
The Rico Electric Juicer boasts a tough, effective stainless steel blade that ensures optimal juice extraction with the least work. Additionally, the juicer has an intuitive control panel with a single switch for turning it on and off.
With safety in mind, the appliance has non-slip feet that keep it steady while in use and a safety locking arm that stops the juicer from working if it is not properly put together. The juicer is simple to clean with replaceable pieces that can be swiftly and easily wiped.
Pros
A powerful motor can process a variety of products swiftly and effectively.
Time is saved by requiring less pre-cutting because of the large feed tube.
The control panel is simple to use and has a single switch for turning the machine on and off.
When in use, non-slip feet keep the juicer stable.
The juicer's removable components make cleaning it simple.
Cons
When operating, the juicer can be extremely loud.
It may be less efficient at extracting juice from softer fruits like berries and grapes.
3. Usha CPJ 382F: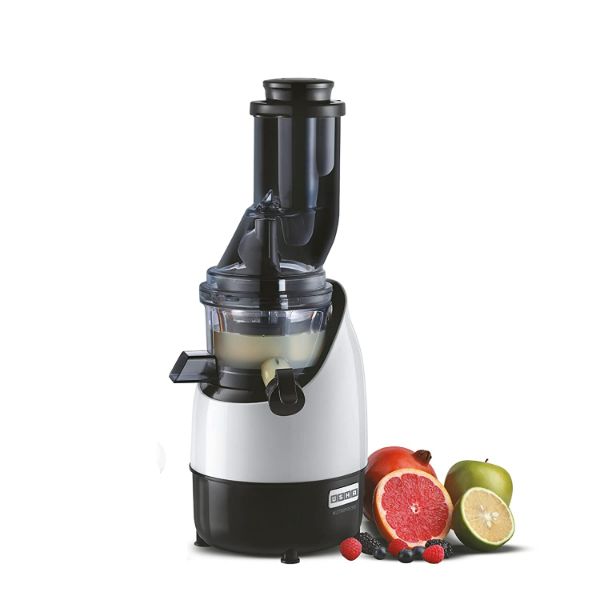 A strong juicer mixer grinder with a 1000-watt motor and a sturdy stainless steel chassis is the Usha CPJ 382F. It is made to easily meet all your juicing, mixing, and grinding demands. The equipment is versatile and effective since it has three jars: a 1.5-litre liquidizing jar, a 1.2-litre grinding jar, and a 0.4-litre chutney jar.
Additionally, the appliance has a cutting-edge airflow design that keeps the motor cool and prevents overheating, extending the item's life. Attach the juicer to the main unit to prepare fresh and healthy juices quickly. Finally, it contains a special honeycomb mesh filter that minimizes waste while obtaining the most juice possible from fruits and vegetables.
The juicer mixer grinder also has an overload prevention mechanism that, in the event of an overload, instantly shuts off the motor to ensure safety and prevent product damage. The device is a beautiful addition to any contemporary kitchen because it is simple to operate and maintain.
Pros
A 1000-watt motor guarantees effective and potent performance.
The body is made of stainless steel, which guarantees its longevity.
The honeycomb mesh filter on the juicer attachment collects the most juice possible from fruits and vegetables.
The overload prevention mechanism guarantees security and guards against product damage.
Cons
While in use, the appliance can be noisy.
The price may be more compared to other models on the market.
4. Havells Rigo Rigi Juicer: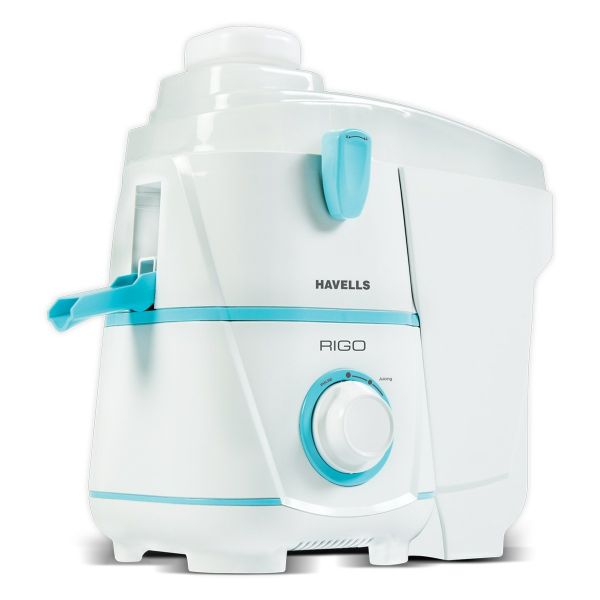 A premium juicer made to extract pure, nutritious juice from fruits and vegetables is the Havells Rigo Rigi Juicer. It has a strong motor allows it to rapidly and effectively squeeze juice from even tough fruits and vegetables like apples and carrots. The juicer has a sizable feeding tube that can fit whole fruits and vegetables, reducing the time needed for preparation.
The juicer has a modern, streamlined appearance that complements any kitchen. It is constructed from strong, long-lasting materials of the highest calibre. The juicer's stainless steel mesh filter ensures no pulp or seeds are included in the juice. The juicer is straightforward to maintain because the filter is simple to remove and clean.
Numerous features on the Havells Rigo Rigi Juicer make it simple to use. First, you can modify the speed with the two-speed control by the type of fruit or vegetable juiced. The juicer also has a safety lock that ensures it won't work if the lid isn't fastened tightly.
Pros
Whole fruits and vegetables can fit inside the big feeding tube, saving time on preparation.
The stainless steel mesh filter makes sure that there are no pulp or seeds in the juice.
With the two-speed control, you may modify the pace based on the juiced fruit or vegetable.
The safety lock ensures that if the lid is not correctly fastened, the juicer won't run.
Cons
The juicer could make a little noise while it's running.
Cleaning the juicer, particularly the mesh filter, could be challenging.
5. Hestia Appliances – Nutri-Max Cold Press Juicer: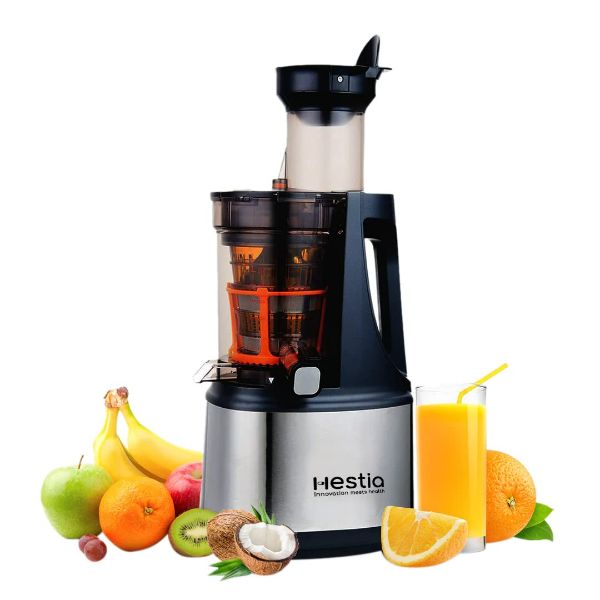 The Nutri-Max Cold Press Juicer by Hestia Appliances is a high-end juicer made to get the most nutrition from fruits and vegetables. It uses a special cold press technology that runs at a slow speed of 65 RPM to reduce oxidation and preserve the juice's essential nutrients, enzymes, and minerals.
The juicer is made of solid materials like food-grade stainless steel and has a robust 240W AC motor. Large fruits and vegetables may fit via the wide chute, eliminating the need for pre-cutting and saving time. A fine sieve for smooth juices and a coarse filter for pulpy juices are also included with the juicer.
With straightforward controls and removable components that can be cleaned in a dishwasher, the Nutri-Max Cold Press Juicer is simple to use and maintain. Additionally, it incorporates a safety locking system that guarantees easy usage and safety.
Pros
A top-notch construction using sturdy stainless steel and food-grade materials
Unusual cold press method that keeps minerals, enzymes, and nutrients intact
An effective 240W AC motor for juicing
Large fruits and vegetables can be easily juiced using the wide chute.
System of safety locks to ensure operation safety.
Cons
Quite pricey in comparison to other juicers available on the market
Small fruits and vegetables might not fit well in the wide chute and must be pre-cut.
6. Amazpro Citrus Fruit Juicer: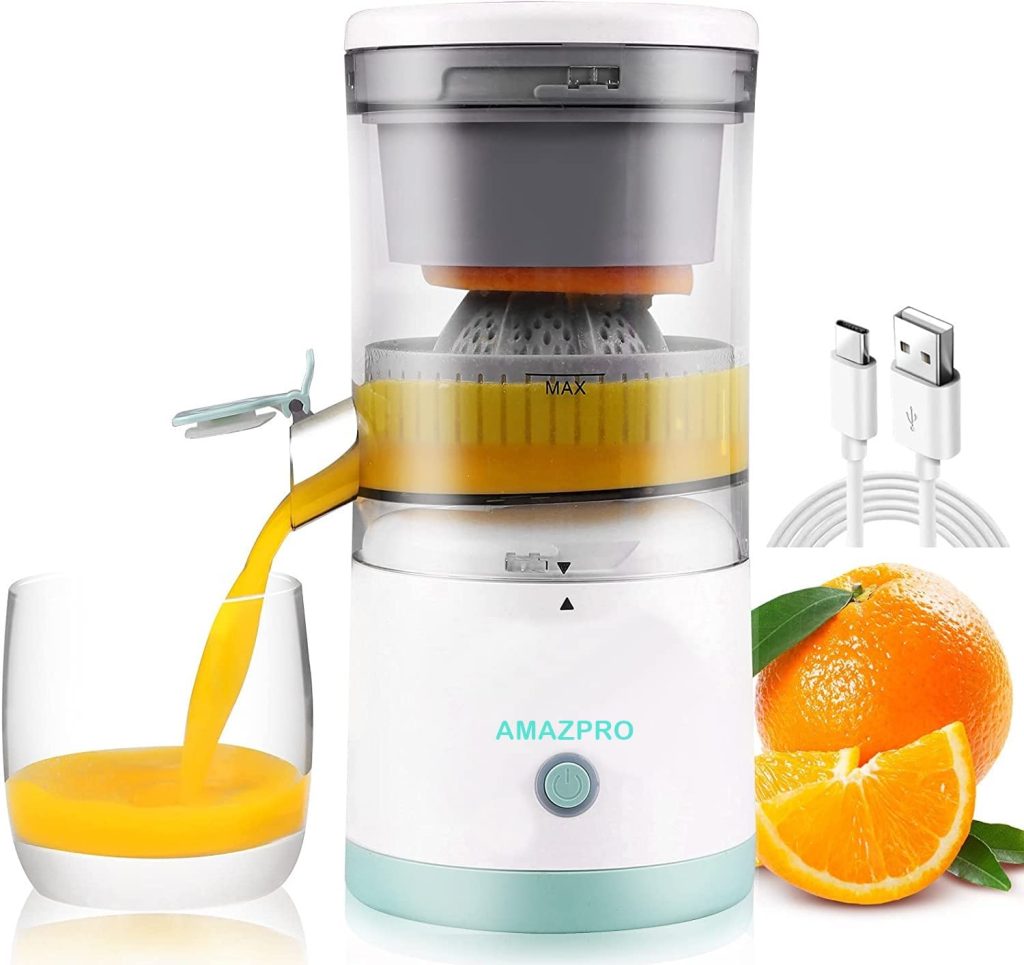 The Amazpro Citrus Fruit Juicer is a top-notch juicer created to extract the most juice from citrus fruits effortlessly. This juicer is the perfect companion for those who appreciate citrus fruits, whether you want a nice glass of orange juice in the morning or add some tart lemon juice to your dishes.
The Amazpro Citrus Fruit Juicer's elegant and small form makes it the ideal addition to any kitchen countertop or cupboard. It has a strong motor that runs quietly, making for a tranquil juicing experience. The juicer has a solid, long-lasting stainless steel cone that effectively squeezes juice from citrus fruits of various sizes, from little limes to enormous grapefruits.
This juicer's unique dual-switch design is one of its best qualities. You can select between the continuous and pulse juicing modes. The continuous mode excels when extracting vast amounts of juice, making it the best choice for preparing breakfast or entertaining visitors. On the other hand, the pulse mode works well for removing juice in smaller amounts, giving you more control over the juicing procedure.
The Amazpro Citrus Fruit Juicer is an all-around useful and effective tool that enables you to take advantage of the health benefits of citrus fruits by drinking freshly squeezed juice. It is a beautiful addition to any kitchen because of its strong motor, dual-switch system, simple cleaning process, and safety measures.
Pros
Effective juice extraction thanks to a strong motor.
Dual-switch for continuous and pulse juicing.
Any kitchen can accommodate its sleek and small style.
A stainless steel cone squeezes all citrus fruits.
Parts that are dishwasher safe are simple to clean.
Built-in overheating defence for durability and safety.
Cons
Only permitted to juice citrus fruits.
Juicing other produce may not be suitable.
It's pricier than manual juicers.
7. Philips Viva Collection HR1863/20 2-Litre Juicer: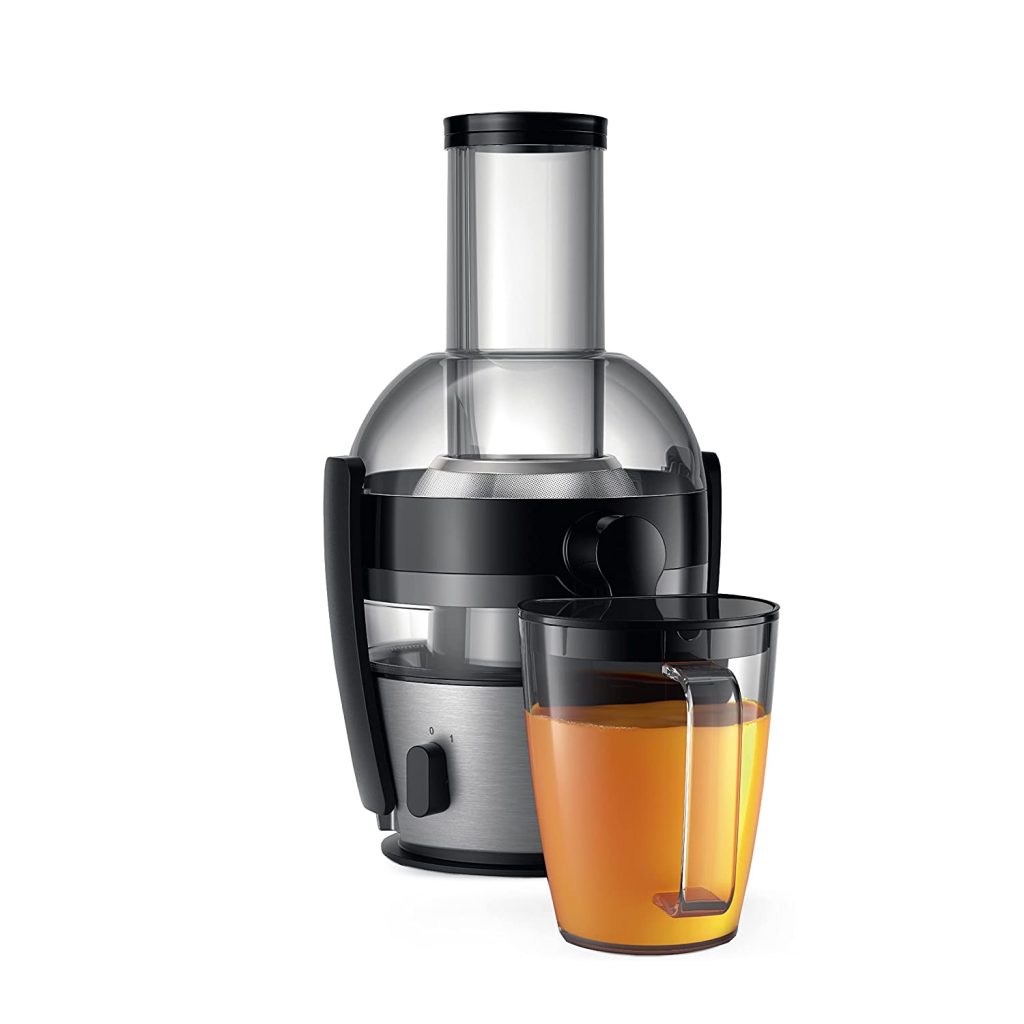 You may take advantage of fresh and healthy juices in the convenience of your own home with the Philips Viva Collection HR1863/20 2-Litre Juicer, which is a strong and effective juicer. This juicer is ideal for individuals who want to include more fruits and vegetables in their daily diet due to its sophisticated features and stylish design.
With its 700-watt engine, the juicer easily squeezes juice from various fruits and vegetables, including hard and soft produce. Whole fruits and vegetables may fit in its extra-large feeding tube, eliminating the need for pre-cutting and saving you time and labour. Additionally, the juicer has a 2-litre pulp bin that enables you to juice massive amounts without emptying it frequently.
The Philips Viva Collection HR1863/20 juicer's innovative QuickClean technology is one of its best qualities. With smooth surfaces and an easy-to-clean sieve, this novel feature makes cleaning simple. Additionally, dishwasher safe, the pulp container makes cleanup simple.
Juice extraction is maximized while waste is reduced by the juicer's design. You will get the most juice possible from your produce because of its distinctive micro-mesh filter and robust motor, which removes the dry pulp. Doing this may give you the most nutritious value from your fruits and veggies while saving money on further produce purchases.
The Philips Viva Collection HR1863/20 juicer also has a drip-stop spout, which keeps your kitchen clean and clutter-free by preventing juice from pouring onto your tabletop. It has two-speed settings, so you can change the pace depending on how hard the produce you're juicing is.
The Philips Viva Collection HR1863/20 2-Litre Juicer is a premium juicing appliance that provides comfort, effectiveness, and exceptional performance. This juicer is a fantastic addition to any kitchen, whether you're a health enthusiast or just like a cool glass of juice.
Pros
The large feeding tube fits whole fruits and vegetables.
QuickClean for easy maintenance and cleaning.
Micro-mesh filters enhance juice extraction and reduce waste.
A drip-stop spout eliminates drips and mess.
For flexible juicing, there are two-speed options.
Cons
The juicer may be a little noisy when operating for certain people.
The size of the juicer may require a sizable amount of counter space.
For juicing wheatgrass or leafy vegetables, the juicer is not appropriate.
Importance of Choosing the best electric juicer machine:
After you invest in a high-quality juicer will significantly improve your juices' flavour, health benefits, and general quality. Juicing is an excellent way to obtain all the vitamins, minerals, and antioxidants you require for a healthy lifestyle in concentrated form from various fruits and vegetables.
However, you won't get as much juice out of your fruit and won't keep as many nutrients if you use a low-quality juicer. It's crucial to spend money on a juicer that can produce the most juice possible without sacrificing the product's nutritious worth and is simple to use and clean.
Conclusion:
These are India's best electric juicer machine providing various options for various tastes and needs. Due to their effectiveness, adaptability, and capacity to extract juice while maintaining nutrients, these juicers have grown in popularity.
These best electric juicer machine are worth considering if you're a health-conscious or busy homemaker searching for practical ways to include fresh juices in your diet.
The Sujata Powermatic Plus 900 Watts Juicer Mixer Grinder and the Philips Viva Collection HR1863/20 Juicer stand out for having powerful motors that make juicing rapid and effective. For individuals who value performance and quickness, these juicers are perfect.
The Prestige PCJ 7.0 Juicer and the Inalsa Maxie Premia 800W Juicer Mixer Grinder provide outstanding value for money for customers looking for a balance between performance and price. These juicers provide good juice without draining your wallet.