Modern houses like double-door refrigerators for their efficiency, capacity, and cutting-edge features. A double-door refrigerator has a freezer and a refrigerator door. This structure is ideal for medium-sized families since it makes food and beverages easier to obtain and manage.
This post will compare the best five 2023 double-door fridges' features, performance, user reviews, and pricing. We have LG, Samsung, Haier, Whirlpool, and Godrej fridges. Convertible options, inverter compressors, energy efficiency ratings, and smart technology make these refrigerators perfect for any household.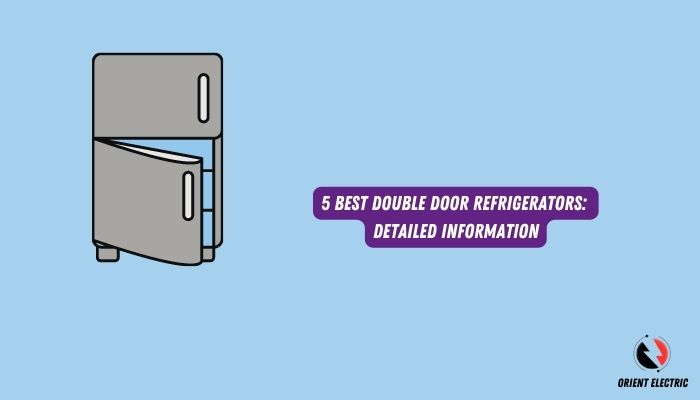 This article reviews the top 5 double-door refrigerators of 2023 and provides a buying guide to help readers choose.
Five Fantastic 2023 Double-Door Fridges:
We'll also include a side-by-side comparison chart of each product's features, specifications, pros, and cons to help you decide. Our 2023 guide to the best double-door fridges follows.
1. LG 240 L 2 Star Smart Inverter Frost-Free: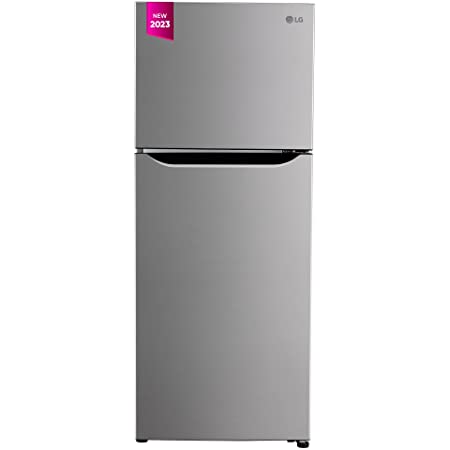 A. Details:
The LG 240 L 2 Star Smart Inverter Frost-Free Double Door Refrigerator can change its freezer into a refrigerator to maximize storage. Its inverter compressor adjusts chilling power to food volume, saving energy and making the fridge quiet. The 240-litre refrigerator has an anti-bacterial gasket, a frost-free freezer, and toughened glass shelves.
B. Pros and Cons:
Pros
Frost-free fridge
Smart-inverter compressor
Energy-efficient
Antifreeze design
Antimicrobial gasket
Glass-reinforced shelves
Cons
Power efficiency 2 stars
Vegetable bin
C. User reviews and ratings:
The LG 240 L 2 Star Smart Inverter Frost-Free Double Door Refrigerator's performance, features, and value have mainly garnered positive reviews. Amazon and Flipkart rate it 4.2/5.
2. Samsung 324 L 3 Star Inverter Frost Free: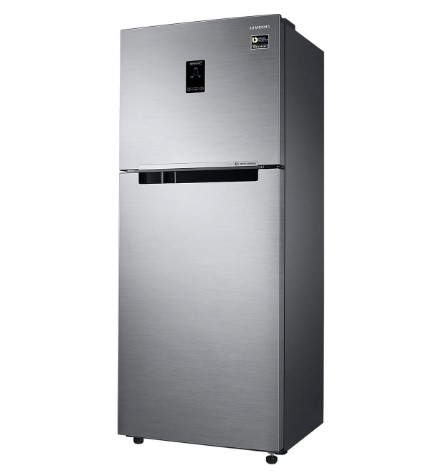 A. Details:
The Samsung 324 L 3 Star Inverter Frost Free Double Door Refrigerator's 5-in-1 conversion capability lets you turn the freezer into a refrigerator. The digital inverter compressor's capacity to adapt cooling output to food demand improves efficiency and quietness. This 324-litre refrigerator has a power freeze, power cool, toughened glass shelves, and a door alarm.
B. Pros and Cons:
Pros
5-mode convertible.
Inverter compressor
Energy-efficient
Antifreeze design
Glass-reinforced shelves
Door warning
Cons
Expensive
Not kid-friendly.
C. User reviews:
Samsung 324 L 3 Star Inverter Frost Free Double Door Refrigerator buyers liked its performance, design, and features. Amazon and Flipkart rate it 4.4/5.
3. Haier 376 L 3 Star Mount Refrigerator(HRB-3964PMG-E)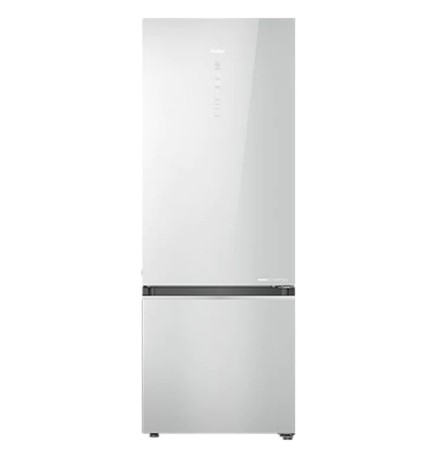 Top-of-the-line Haier bottom mount double door refrigerator. Its 376-litre capacity may suit moderate to large families. Below are the refrigerator's features and specs:
A. Features:
Three-star efficiency
Usage in extreme cold.
Freezer flexibility (can be used as a refrigerator)
Inverter compressors
Below installation
Mirrored door.
Parallel inverters
PU Foam
Antimicrobial gasket
Door locking
Specifications:
665 x 595 x 1700mm (WxDxH)
376 mL External Volume
346 litres internal.
R600a compressor
43dB.
Voltage: 220–240
282 kWh/year.
B. Pros and Cons:
Pros
Bottom-mounted refrigerators are easier to enter.
The freezer is flexible.
Inverter compressor technology saves energy and noise.
The glass door and mirror-like gloss make it modern.
Dual inverter technology enhances cooling and gadget longevity.
The antibacterial gasket prevents germs.
Safer door locks.
Cons
Singles and small families may find it too big.
Several rival models cost less.
C. User reviews and ratings:
This Haier refrigerator has 4.3 stars on various internet marketplaces. Users like its efficiency, space, and design. Customers seldom report freezer issues.
D. Value analysis:
Shop for the best Haier 376 L 3 Star Double Door Bottom Mount Refrigerator price. Amazon, Flipkart, and Reliance Digital sell it. Prices were INR 35,000–40,000 when this article was written.
4. Whirlpool 265 L 3 Star Inverter Frost-Free Refregirator: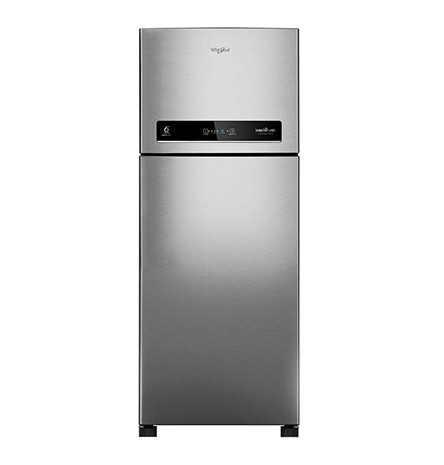 A. Details:
The 265-litre, inverter-powered, frost-free Whirlpool INTELLIFRESH INV CNV 278 3S double-door refrigerator has three energy stars. Its adaptive intelligence technology monitors internal heat load and changes fan speed and temperature to maintain cooling. Go to deep freeze mode to use the freezer as an extra refrigerator.
Other traits:
Microblock technology destroys up to 99% of bacteria to preserve food.
Connects automatically to a home inverter to maintain air conditioning during power outages.
Zeolite technology slows fruit and vegetable ripening.
The refrigerator's cooling gel keeps food cold even without electricity.
B. Pros and Cons:
Pros
Intellisense inverter technology provides reliable cooling.
Convertibility maximizes adaptability.
Microblock-based antibacterial technology
Link automatically to a home inverter to maintain cooling during outages.
High-capacity gel-cooling system
Cons
Energy efficiency is just 3 stars.
Insufficient colors
C. User reviews:
The Whirlpool INTELLIFRESH INV CNV 278 3S is praised for its effective, consistent cooling and adaptable design. Auto-connect to the home inverter and macroblock technology are also well-received. Customers have complained about energy efficiency.
D. Value analysis:
The Whirlpool INTELLIFRESH INV CNV 278 3S costs Rs. 30,000 in India. It costs less than comparable devices from other manufacturers.
5. Godrej 244 L 3 Star Inverter Frost-Free Double Door Refrigerator (RF EON 260C 35 RCIF ST RH)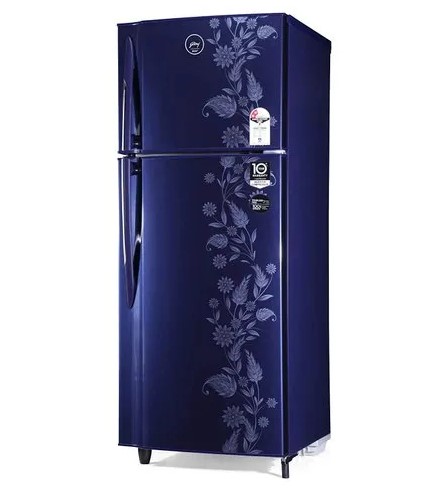 A. Details:
Twin-door, frost-free Godrej RF EON 244C 35 RCIF ST RH refrigerator. The 6-in-1 convertible mode lets you interchange the freezer and refrigerator. The refrigerator's inverter compressor provides energy-efficient cooling. Reinforced glass shelves hold 150 kg. The fridge has an intelligent defrost function that defrosts automatically based on cooling load and usage patterns. The door has a latch, power regulator, and deodorizer.
Features:
260-litre storage
Third-Class Power.
Frost-free Cooling
Six-in-One Adaptable Form Factor
Tempered shelf glass
Inverter compressor
Smart defrosting
Locking door: YES
Voltage stabilizer: Built-in
Defogger: Indeed.
B. Pros and Cons:
Pros
Changing to six sizes increases storage.
The quiet inverter compressor saves energy.
Glass shelves can withstand heavy pots and pans.
The built-in voltage stabilizer prevents fridge power spikes.
Refrigerator deodorizers smell good.
Cons
This refrigerator has no water dispenser or ice maker.
Customers report freezer cooling issues.wai
C. User reviews:
The Godrej RF EON 244C 35 RCIF ST RH has 4.2 stars from 5 customers. Energy efficiency, capacity, and durability have earned the fridge praise. Nevertheless, some consumers report that the freezer takes longer to freeze food.
D. Price comparison:
Depending on the vendor and area in India, the Godrej RF EON 260C 35 RCIF ST RH costs between Rs. 25,000 and Rs. 30,000. For those searching for a mid-range refrigerator with a convertible mode and other cutting-edge features, it represents good value for money because it is reasonably priced compared to other double-door refrigerators.
Shopper's Guide:
Two-door refrigerators are expensive. Choosing the best model from the many available may be difficult. We'll discuss double-door fridge features and maintenance here.
A. Choosing a Double-Door Refrigerator:
Size and capacity: The fridge's power and size are crucial. It must fit your kitchen and family's food storage needs. Large families need a bigger fridge, while smaller families need a smaller one.
Efficiency: Energy-efficient refrigerators help the environment and your wallet. Select models with higher BEE star ratings to save energy and the environment.
Gains and benefits:
Two-door refrigerators are helpful. Most common examples:
"Frost-free" technology eliminates ice buildup and defrosting.
Turn the freezer into a fridge when you need more refrigerator space.
The inverter compressor adjusts output to cooling load, reducing power consumption and sound.
A multi-airflow system that cools the refrigerator.
Cold water dispensers don't need doors.
Reputation and customer service
Choose a trusted brand with good customer service. Check warranties and customer service.
B. Double-door fridge maintenance tips:
Upkeep and repairs: Cleaning and maintaining your fridge will extend its life. Clean inside and out with mild detergent and water. Remove food stains from condenser coils to keep them clean.
Adjusting temperature: The manufacturer recommends setting the thermostat. Keep the refrigerator door closed to avoid temperature fluctuations.
Assembly and storage: Organize your fridge. Label clear containers to find things quickly. Avoid overloading the refrigerator to maximize cooling.
Fixing Common Issues: If your fridge makes strange noises or isn't chilling, consult the manual. Call the manufacturer's customer service for serious issues.
If you consider these things and follow this advice, your double-door fridge will run well and last for years.
Conclusion:
In conclusion, double-door refrigerators are ideal for average-sized families due to their ample interior space, low energy use, and customizable settings.
Our 2023 top-five double-door fridges:
LG 240-Liter Double-Door Frost-Free Smart Inverter Refrigerator
Samsung 324-Liter Dual-Door Frost-Free Inverter Refrigerator.
Haier 376-litre Bottom Mount Double Door 3-Star Refrigerator
Whirlpool Intellisense Dual-Door Frost-Free Inverter Refrigerator (265 litres)
Refrigerator, Godrej 260 L, Inverter, Frost-Free Double Doors, 3 Star, Energy Star Rated
Choose the product that meets your needs and preferences from the many options.
In conclusion, a large, efficient, and feature-rich double-door refrigerator is highly recommended to simplify your life. Taking care of your double-door fridge can last for years, giving you all the space and convenience you need.
We hope this review helped you find the best 2023 double-door refrigerator. Please share this post and comment below.